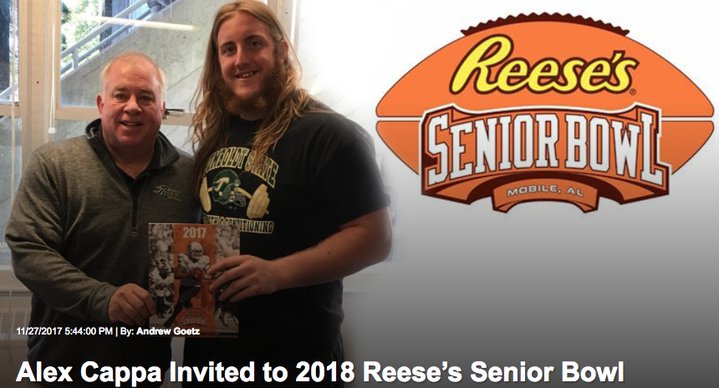 On Monday, Humboldt State football left tackle Alex Cappa was formally invited to play in the Reese's Senior Bowl, a prestigious all-star game for college football's top seniors.

The game will be played in Mobile, Alabama at Ladd-Peebles Stadium on Jan. 27, 2018 at 3:30 p.m., and will air live on the NFL Network.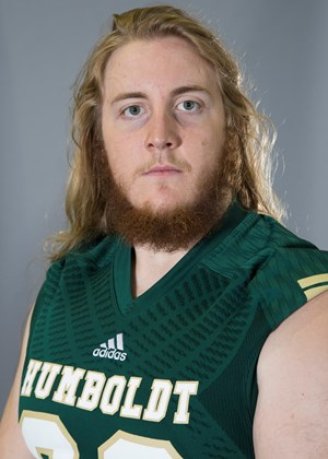 If Cappa accepts the invitation, he will join the ranks of current NFL stars who also played in the Senior Bowl — like Russell Wilson, Dak Prescott and Clay Matthews, as well as past legends like Joe Namath, Walter Payton, Bo Jackson and "Mean Joe" Greene.
NFL draft prospects like Cappa sometimes turn down offers to avoid risking injury, and in turn ruining their draft chances and all the money that comes with it.
But HSU athletics department spokesperson Andrew Goetz told the Outpost this morning that the 6-foot 7-inch lineman will likely accept the invitation, and maybe even use the opportunity to raise his draft stock.
"I think it's a great opportunity for Alex to get out in front of scouts," Goetz said.
A number of NFL scouts are said to have visited Redwood Bowl this year to watch Cappa and other Lumberjacks play, but Goetz could only recall the Jacksonville Jaguars visiting off the top of his head.
While it's not uncommon for Division II players like Cappa to make the Senior Bowl roster, a vast majority of invitees come from Division I teams. Cappa happens to be the first HSU player to ever get the invite.
Lumberjack running back Ja'Quan Gardner is also on the list of prospects that may make the Senior Bowl roster, but he's yet to receive an invitation.
Gardner is currently on of 10 finalists to receive the 2017 Harlon Hill Trophy, which is awarded to the NCAA Division II College Football Player of the Year. Gardner was the runner-up to receive the award in 2015, and this year's winner will be announced on Dec. 15.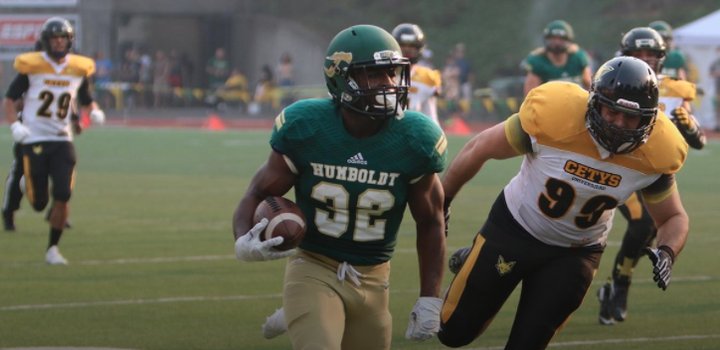 Amid all this success, HSU football's future seems very bleak, as President Lisa Rossbacher may soon announce her decision to cut the program, meaning that the Lumberjacks may have already played their final game.
As part of tradition, Reese's Senior players wear the helmets of their university teams during the game. If HSU football is axed, Cappa will likely be the last Lumberjack to strap on a green and gold helmet as he takes the field in January to represent a team that no longer exists.