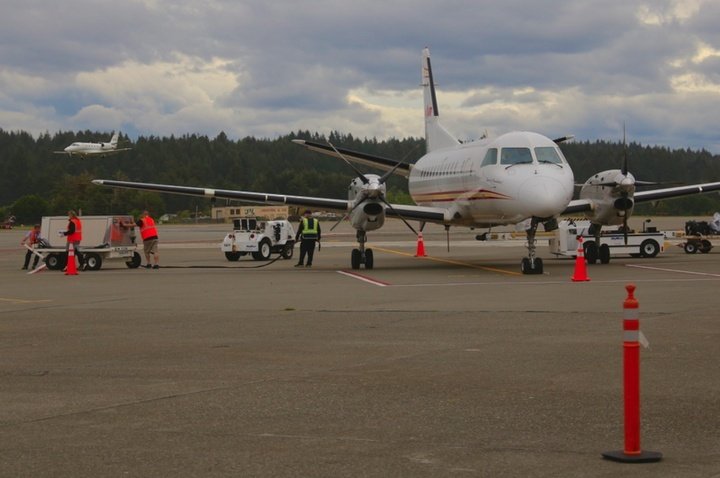 PREVIOUSLY:
# # #
Alaska-based PenAir is abandoning its twice-daily service between Crescent City and Portland, Ore., effective December 15, a move that will leave Del Norte County without any commercial air service.
Local airport officials are pursuing a U.S. Department of Transportation grant to finance a new contract with Tennessee-based Contour Airlines, but even if that application gets approved it could be 60 days or more before Contour can start offering flights out of Crescent City, according to Del Norte County Airport Director Matthew Leitner.
"We're doing our utmost to expedite" the process, said Leitner, who just this morning learned out about PenAir's decision to leave. "Up until today they were saying they would continue to serve [Crescent City] if they were able," he said. PenAir issued a press release (posted below) announcing its decision. The Outpost reached out to the airline to ask for more information but has yet to hear back.
PenAir, which declared Chapter 11 bankruptcy back in August, wanted to leave Crescent City even earlier but was denied permission to do so by the federal Department of Transportation. Permission is required because Crescent City's airport, unlike Humboldt's, is designated an Essential Air Service. The federal EAS program guarantees air service in small communities nationwide by offering government subsidies to air carriers in exchange for their commitment to provide service.
PenAir still hasn't received permission to abandon its service in Crescent City, according to Leitner. He said any enforcement actions against PenAir for violating its contract will be handled by the Department of Transportation. Meanwhile, he and other Del Norte County officials are scrambling to bring Contour Airlines in as soon as possible.

The Border Coast Regional Airport Authority, a joint-powers authority governing the Del Norte County Regional Airport, has applied for a U.S. Department of Transportation grant through the agency's Alternate Essential Air Service program. If that grant is approved, the Department of Transportation would provide subsidies directly to the regional authority, rather than the airline. Leitner said this arrangement would give the regional authority more flexibility, allowing it to vary the number of daily flights based on seasonal demand.
This morning's announcement left Leitner and his colleagues desperate to speed up the process and get Contour in as quickly as possible. "We're in contact with [Congressman Jared] Huffman's office, and we're doing our best to get that application processed," Leitner said. "We're enlisting all the help we can get."
Department of Transportation officials previously told Leitner that it would take 60 days after the grant is awarded before service could begin. "That may be hastened" given today's developments, he said.
Here's the press release from PenAir:

ANCHORAGE – PenAir announced today that their last day of operating between Crescent City, California, and Portland, Oregon, will be December 15, 2017.

PenAir started operating between the two markets on September 15, 2015 under an Essential Air Service contract with the Department of Transportation. Beginning in early October of 2016 they added several other routes to their resume including Arcata/Eureka, CA; Redding, CA; Coos Bay/North Bend, OR; and Klamath Falls, OR.

In August of 2017 the company entered into Chapter 11 and began closing their Pacific Northwest markets out of Portland, OR. "As part of the Chapter 11 process, the company was obligated to begin eliminating those markets that were not making money. It was a tough decision to make considering the future opportunities we could see in each of these markets", said President Danny Seybert.

"The City of Crescent City has chosen another carrier to operate out of Crescent City; however, that carrier is not ready to enter the market for several months, said Sr. Vice President of Ground Operations, Murphy Forner. We are not able to continue to service the market until the new carrier is able to start service."

Customers currently holding reservations/tickets on PenAir after December 16, 2017 may contact PenAir Reservations at 800-448-4226 for a full refund.