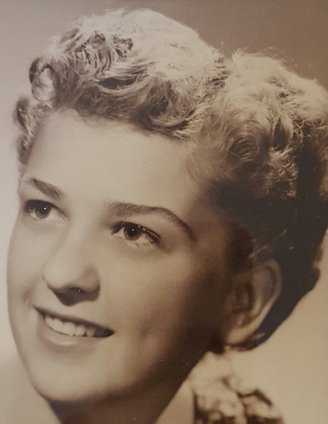 Patricia Lee Hafner, age 83, died peacefully at her home in Manila, California, on September 28, 2017, surrounded by her loving family.

Pat is survived by her oldest daughter Lisa (Randy) Hafner of Crescent City, son Scott (Rozzi) Hafner of San Diego, her youngest daughter Julie Angles of McKinleyville, and her grandchildren Ben Hafner, Mikayla Hafner, and Jack Angles. She is also survived by extended family Phyllis Hafner, Ward Angles, Iain Macdonald, and Sheri Myer, as well as sisters JoAnn Stevens and Betty Edwards, nephews Jeff (Pam) Stevens, Greg (Annie) Stevens, and niece Wendy Pozo. She was preceded in death by her ex-husband and lifelong friend Donald Hafner and her parents, Joseph and Charlotte Richter.
Pat was born in Alhambra, California, on October 28, 1933, to parents Joseph and Charlotte (Nold) Richter, both originally from Indiana. She grew up in Inglewood, and after high school attended UCLA, until marriage and family put a hold on her education. She eventually graduated with an English degree from California State University, Fullerton in the 1970s. She worked in the District Attorney's office for many years until she decided to become a court reporter, then a medical transcriptionist.
Pat married Donald Hafner in 1953 and had three children: Lisa, Scott, and Julie. Though the marriage ended in divorce, she and Don maintained a loving relationship, and they were wonderful parents. Some of Pat's favorite times with her children were camping at San Clemente or El Capitán State Beach. She dreamed of living on the coast, and once her youngest daughter graduated high school, the two of them moved to Bodega Bay. After finding that too isolated, they moved to a beautiful Victorian home near the beach in Cayucos, a small town north of San Luis Obispo. She would eventually move to Humboldt County and find her perfect home in Manila right on Humboldt Bay. Pat's last good day was spent being driven by her son (in her snazzy sportscar!) on Samoa Blvd. taking in the beautiful view that had given her so much joy.
Pat loved spending time with family, and nothing meant more to her than her children and grandchildren. She was feisty and fiercely loyal; woe to anyone who messed with her or her family. In her retirement years, Pat loved to cook. She collected recipes, meticulously writing them down in dozens of notebooks. Though she was seldom satisfied with her own creations, her family happily begged for more. Pat also had a passion for politics, literature, and movies, all of which her children share, but the greatest example she gave them was her spirited intolerance for any form of injustice.
The family wishes to thank Dr. Scher at Open Door Clinic and Hospice of Humboldt for their support and encouragement during Pat's final days. There will not be a formal service, but those who would like to honor Pat are encouraged to attend Hospice of Humboldt's annual "Light Up a Life" ceremony on December 6, 2017 at 7 pm. In lieu of flowers, please make donations to Hospice of Humboldt.
###
The obituary above was submitted by Pat Hafner's family. The Lost Coast Outpost runs obituaries of Humboldt County residents at no charge. See guidelines here.