A Blue Lake man acquitted of a pot-related murder in Arcata was sentenced today to eight years in state prison for vandalism and drug crimes.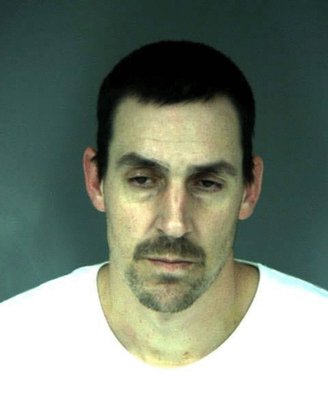 Robert "Bob" Louis Huntzinger, 36, will actually serve about three years because he's been in Humboldt County Correctional Facility since mid-May of 2015. With that time and "good time" figured in, he was given credit for 1,821 days, just a few days shy of five years.

Defense attorney Russ Clanton told Judge Christopher Wilson this morning that Huntzinger has had plenty of time to reflect on his "sad history" of drug addiction. Clanton said Huntzinger will use his prison time to become "the person he set out to be: an educated, insightful, contributing member of society."
Under his agreement with the District Attorney's Office, Huntzinger was sentenced to four years in prison for felony vandalism of a laundromat. That conviction is a strike under the state's "Three Strikes You're Out" law, so the sentence was doubled to eight years. A three-year sentence for possessing drugs for sale will run concurrently.
Six months ago a jury acquitted Huntzinger of murder and burglary in the May 2015 shooting death of Trevor Mark Harrison during a marijuana deal at Harrison's mother's home. Co-defendant Billy Joe Giddings, the shooter, was convicted of second-degree murder and sentenced to 52 years to life.
Today Deputy District Attorney Roger Rees, who prosecuted Giddings and Huntzinger in the murder case, told the judge Huntzinger's past is about more than drug abuse.
"He's gotten here because of his conduct," Rees said. "To blame it all on drug addiction is not fair."
Nevertheless, Rees said, "I wish him the best" on his plan to change his life.
Wilson agreed Huntzinger has a "sad history," but reminded him he was "packing a substantial amount of heroin and other controlled substances" when arrested on the drug charge.
"It's not a victimless crime," Wilson said, noting that the people who buy drugs from dealers tend to then victimize other people.
As for Huntzinger's damaging the laundromat, the judge said he was probably after more money to finance his drug habit.
Huntzinger holds the record for the longest-serving inmate currently in Humboldt County Correctional Facility. Only one other inmate, murder suspect Melissa Jean "Missy" Munsell, has been in the facility since 2015. Munsell was arrested two days after Huntzinger for an alleged DUI-related crash that killed her passenger.