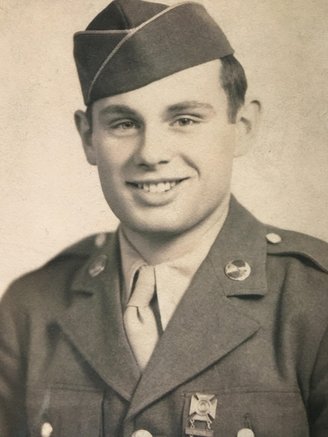 E. Darrell Jameson
May 10, 1925 – October 30, 2017
Arcata, California
Darrell passed away early Monday morning on October 30, 2017 at the age of 92 with his family present.
Darrell was born in Eureka on May 10, 1925 to Alice M. Jameson and John Williamson Jameson, the oldest of four children.
Darrell's mother taught school in a one-room school house in Showers Pass. He started school at 5½ years old. Even though he went to school in Eureka during the school year he continued going to the Showers Pass school in the summers to ensure there were enough children to have a school teacher.
After graduating Eureka High School in 1943, he enlisted in the United States Army Service, 4th Infantry Regiment. He served 21 months, mostly in the South Pacific, earning a Purple Heart.
After serving in the Army Darrell married. They had two children, Pamela Sue Jameson and John Raymond Jameson.
Darrell spent 2½ years working for the Barrel Factory and Hammond Lumber Co.
He went to Humboldt State College for two years, working towards a business education major.
For 22 years Darrell, worked in the C & V Market/Liquors.
Darrell's last place of employment was for the United States Postal Service. The last few years of working there he would train in other workers at all Humboldt County post offices. Even after retiring he was called back to troubleshoot. He continued to go to the Post Office to do bulk mailings for friends and churches.
Even though Darrell retired in his mid 60s, he kept very busy. He went to the swimming pool four to five days a week for water walking. Worked for the church. Visited his mom and sister Ruth weekly. Put in cement pathways in the garden.
One of the things Darrell enjoyed doing most was going to Showers Pass, hunting with his son and grandsons. He was well prepared for camping and would collect non-perishables all year long for the expeditions. He loved the time spent with family and looked forward to it all year.
Darrell had a love and respect for his mountain family on Showers Pass and Pilot Ridge. He spent almost all of his free time with them from when he was a young child in school, until his nineties and health prevented him from going.
He would spend weekends there and help with the chores. When weather was bad he helped feed the cattle often during snowstorms. Many times he took in supplies when it was difficult for them to get off the hill. The friendship of Ruth and Boy was a special one and very important to him.
One of the stories the whole family loved hearing Darrell tell was about when he got shot during the war. He was shot in the leg and couldn't move so two of his buddies came with a stretcher and started carrying him up a hill. Darrell said he was feeling sorry for himself, because he leg hurt so bad, when the shooting started again with a .50-caliber machine gun pointed their way, giving Darrell the adrenaline he needed to hop off the gurney, running back to the foxhole. Darrell ran so fast that neither of his friends could keep up. When the shooting stopped they loaded Darrell back up and hauled him out.
A celebration of Darrell's life will be held on Friday the 10th of November at 1 p.m. in the Arcata-McKinleyvile Seventh-day Adventist Church, 1200 Central Ave., McKinleyville.
Darrell is survived by his wife, Alice Sturges-Jameson; son, John Jameson and his wife Bonnie; sister Marion Brooks and husband Ted; sister Elinor Coomes; grandchildren Kenny and Kevin Jameson, Kim Bergel and husband Eric, Shannon Elesmore and husband Rob; great-grandchildren Reesa and Asher Bergel, Jameson and Jackson Elesmore; numerous nieces and nephews; stepchildren John and David Sturges and Susan Wallace; step-grandchildren Ryan, Darcy, Holly, Scott, Mo and Stephen Sturges.
###
The obituary above was submitted by Darrell Jameson's family. The Lost Coast Outpost runs obituaries of Humboldt County residents at no charge. See guidelines here.