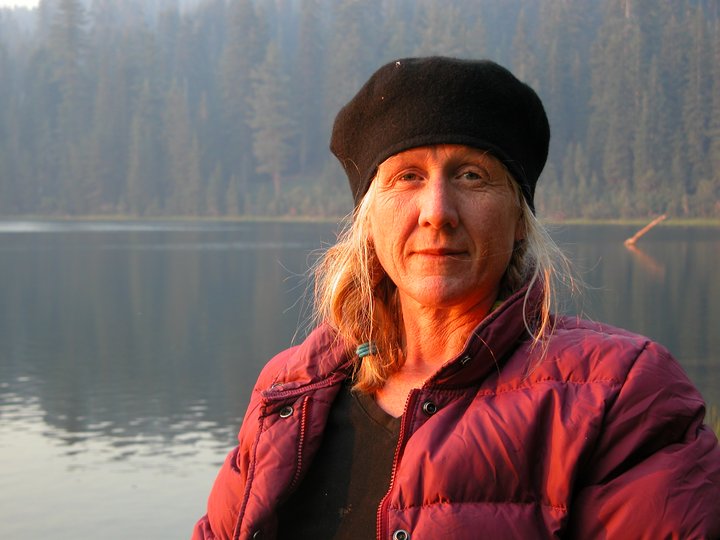 Born November 7, 1960 in Lakewood, California, and died November 2, 2017 at home in Hawkins Bar, California. Survived by husband Michael O'Neill, sons Solo and Kellen; parents Joyce and Dick Kyle; grandmother Laura Reeves; sister Cova-Lee (Jon), brothers Scott (Pam) and Chet; parents-in-law Luanne and Bill O'Neill; brother-in-law Chris (Tracy); nieces and nephews Brittney, Colin, Ava, Liam, and Cooper; her dog Coco.

Also survived by many special friends, including her Seal Beach friend Charmaine; Santa Cruz friends Jeff, Lisa, Patricia and Jan; Bay Area friends Mo, Camille, and Michelle; Mali Peace Corps friends Mike, Julie, Abby, Laura Lee and Kathleen; Humboldt friends Ali, Deanna and Cassie.
A lifelong Californian, Kelley was born and raised in Seal Beach. She left home at 17, after graduating high school, to embark on a life of adventure. She settled in Santa Cruz and from there began working her way around the world: harvesting olives in Greece, trekking in the Himalayas, climbing the Great Pyramids of Egypt, finishing her degree at University of California – Santa Cruz, a Peace Corps volunteer serving rural peoples in Mali, West Africa, teaching art and writing on the Hopi reservation in Northern Arizona. There she met Michael O'Neill, another art teacher. They were married on March 20, 1996. First son Solo was born in Flagstaff, Arizona, on October 20, 1996, and several months later the family moved north, back to Kelley's beloved California. They settled in Humboldt County, later dividing their time between life on the Coast and their house in Hawkins Bar after children and jobs complicated their lives. Son Kellen was born in Hawkins Bar on New Year's Eve, 1999.
Kelley most recently worked as a substitute teacher in the Klamath Trinity Joint Unified School District and before that spent over ten years as a health education specialist for Humboldt County. But her real passion was creating art. She loved bold colors, natural, antique, and found objects, texture and balance, and crafted wood, wire, bone, stone and metal sculptures and mobiles. She loved beading, and incorporated beads into many of her pieces. She used vibrant textiles from her travels to create one-of-a-kind quilts to warm her family and friends. Her work and her life were inextricably and uncompromisingly devoted to a reverence for organic form and the sublime forces of nature—in human beings and relationships, the ocean, a winter run of salmon, an eagle's eyrie, an African village. Her work was shown at many different galleries in Northern California; she was most well known for her wire, bone and bead salmon sculptures. She was an artist-in-residence at the Morris Graves Retreat in 2005.
Kelley lived her life surrounded by art and nature. She loved the natural world: the beach, the Trinity River, the lush forests and mountains of Northern California. She loved her home: lively, colorful, with eclectic artwork she and Michael—and her boys—created. Kelley was a firm believer in daily exercise and healthy eating; she grew her own vegetables and raised chickens in the backyard. Walks, hikes, bicycling, rowing and physical work were part of her daily rituals.
Kelley loved her friends. Her lifelong friendships and the unconditional love she shared were a blessing to those fortunate enough to have had her in their lives. But most of all, Kelley loved Michael, Solo, and Kellen. She said her greatest accomplishment was raising their two sons and watching them turn into fine young men.
Kelley requested no funeral services. A celebration of her life will be held at a later date. Memorials can be sent to Kelley's Legacy College Fund, Account #219010, Coast Central Credit Union, 39007 Hwy. 299, Willow Creek, CA, 95573.
###
The obituary above was submitted by Kelley Kyle's family. The Lost Coast Outpost runs obituaries of Humboldt County residents at no charge. See guidelines here.