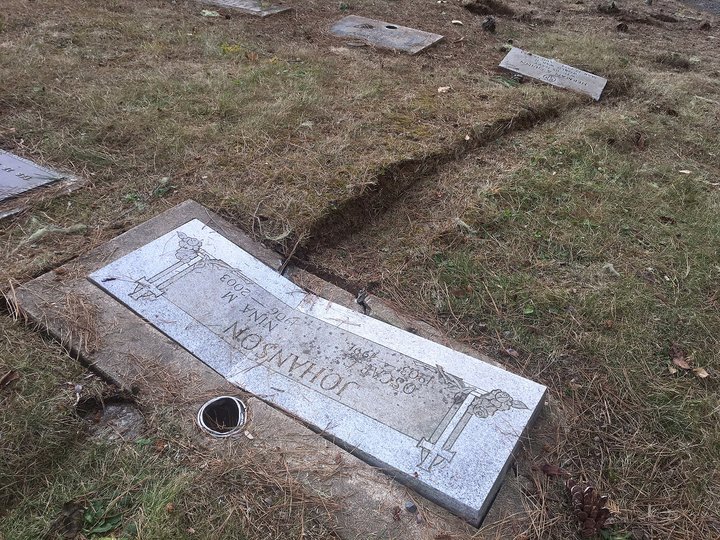 Trinidad's historic cemetery has been the victim of, at best, clumsy driving or, at worst, thoughtless boors and idiots, as Mayor Dwight Miller put it Monday afternoon when informed of tire tracks that have torn up cemetery gounds and damaged at least four gravestones.
A visitor to the cemetery came to Murphy's Market to complain about the damage when he found city offices closed Monday afternoon.
Tire tracks traverse four flat, in-ground gravestones near the entrance to the hillside cemetery off Stagecoach Road. Two larger stones are broken in half.
"There seems to be no end to boorish and idiotic behavior, in Trinidad and on the national and international scenes," Miller said. "I welcome any suggestions on how we — locally or beyond — can inspire a reduction in such thoughtless acts."
The small cemetery, a designated historical site, includes graves that date to the 19th century. The worst damage is to gravemarkers of Oscar C. (1903-1991) and Nina M. (1906-2003) Johanson, and Walter J. (1916-1984) and Dorothy B. (1921-1979) Phillips, whose gravestones were broken in the middle by the vehicle's tires.
Tire tracks also run over the corners of two smaller stones, including that of WWII Navy veteran Herman A. Quinn (1924-1983), displacing but not damaging them.
Mayor Miller didn't know the cost of repairing the damage. "We could use cemetery fund money, low at this point, to repair the damage, and we could string a chain across the driveway, but thoughtless acts will likely continue," he said.
Anyone with information about the damage to the cemetery is asked to contact the Trinidad City office at 707-677-0223, or the Humboldt County Sheriff at 707-445-7251.