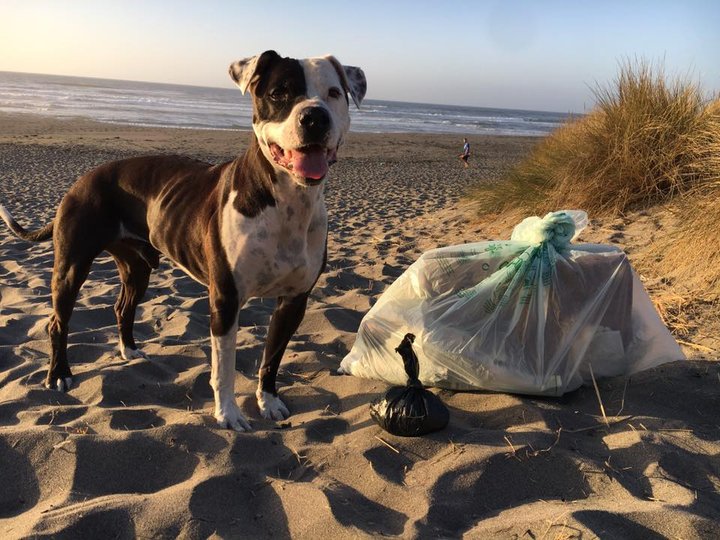 Coastal Cleanup Day - The results are in!

Humboldt County Totals At-a-Glance:
Volunteers: over 600
Trash: Nearly 6 tons
Sites: Over 60
Most collected Item: Cigarette Butts - over 3,000
Most Interesting Item Found: Toilet
Hundreds of Humboldt County residents turned out Saturday, Sept. 16 for Coastal Cleanup Day, to lend their hands in support of clean beaches and waterways. Over 600 volunteers trekked shorelines and inland locations, picking up trash and debris at over 60 sites throughout the county, gathering over six tons of trash during the morning's three-hour event. This was the 38th annual cleanup event coordinated by the Northcoast Environmental Center and the 33rd annual event organized by the California Coastal Commission. It is the state's largest volunteer event. California's cleanup is part of the International Coastal Cleanup organized by Ocean Conservancy.
This year's cleanup saw volunteers of all ages – from hundreds of elementary school students and high-schoolers, to volunteers who have been involved since the NEC's first cleanup day 38 years ago. People took to the beaches up and down Humboldt's coastline, from Shelter Cove to Big Lagoon to inland reaches of the Eel and Mad Rivers.
"Each year it never ceases to amaze me at how our community comes together to help cleanup our watersheds for Coastal Cleanup Day! I love how especially in Humboldt it has become tradition and people come back year after year and bring on new volunteers who then become hooked as well," stated Madison Peters, Coastal Cleanup Day Coordinator for the NEC.
Statewide, the California Coastal Commission's preliminary numbers showed more than 42,000 volunteers cleaned up over 293,700 pounds of trash and an additional 23,100 pounds of recyclables — totaling around 158 tons picked up from over 900 sites!
This collaboration of cleaning up our beaches would not be possible without all of the support from the Northcoast Environmental Center, agencies, organizations, businesses, and of course all the volunteers! The NEC would also like to thank all the site captains, and everyone who participated!
For more information please visit www.yournec.org and www.coastalcleanupday.org
Continuing the Cleanup … Join Surfrider's "Samoa Trash Bash"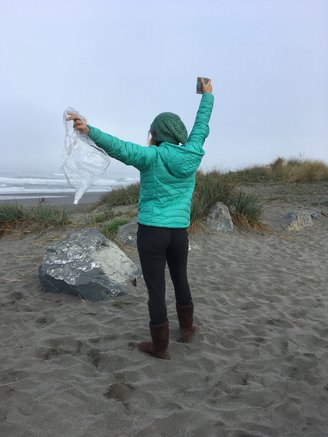 The Surfrider Foundation Humboldt Chapter is organizing a "Samoa Trash Bash" campaign to generate community support for keeping one of our most prized beaches clean, protected and enjoyable. Illegal dumping and litter has become an increasingly significant issue on the Samoa Peninsula. Not only is the trash a terrible eyesore, but it can also harm local wildlife and it eventually ends up in the ocean, adding to an even larger problem.
The goal for this campaign is not only to clean the beach, but to document the amount of trash being dumped and left behind in the first place. Surfrider will then present this information to interested stakeholders, elected officials, and the county, to encourage them to play a larger role in long term protection of the Samoa Peninsula. The campaign kicked off on Coastal Cleanup Day and will continue through November 30th.
How to Participate:
Step One: Pick up trash on the Samoa Peninsula. If the trash is too big or too gross to handle alone, call our Certified Beach Trash Cleanup Crew Hotline at 707-633-8753
Step Two: Take a picture of the trash. Have fun with this, get creative!
Step Three: Post the picture to our Facebook Group "Samoa Trash Bash" in the discussion section OR post the picture to Instagram using #certifiedbeachtrash and tag @surfriderhumboldt.
For every posted picture, your name will be entered in a weekly and grand prize raffle.
One name will be drawn every week and the winner will receive a special edition "Certified Beach Trash" cleanup crew T-shirt! Grand Prize winners will be announced at our Black and White Ocean Night event in December! The more trash you pick up, the higher your chances are to win! Limit one entry per day.
Speaking of Surfrider … Ocean Night is this Thursday!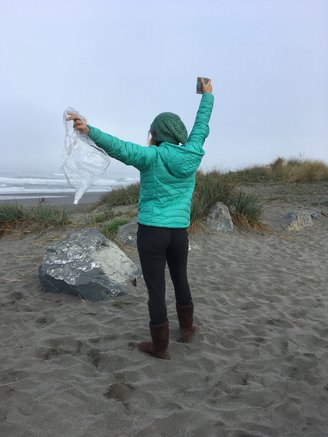 This Ocean Night - Thursday, Oct. 12 — will feature classic surf flick Thicker Than Water and an environmental film (Straws), as well as celebrate a successful Coastal Cleanup Day!

Doors: 6:30 p.m.
Films: 7 p.m.
$3 Suggested Donation
All Ages!
Thicker Than Water is a documentary film directed by singer/songwriter Jack Johnson and surfer Chris Malloy. It is collection of images and memories from locations like Australia, Indonesia, Hawaii, India, and Ireland. Starring Rob Machado, Kelly Slater, Brad Gerlach, Shane Dorian, the Malloy brothers and others, the film features a range of personalities and styles.
Straws: "With colorful straw history animation and segments narrated by Oscar winner Tim Robbins, STRAWS leaves audiences with a clear understanding of the problems caused by plastic pollution and empowers individuals to be part of the solution.
It's estimated that each day in the U.S., over 500,000,000 straws are used once and tossed. Ocean Conservancy ranks plastic straws as the number five most popular found item on beaches and the vast majority of them aren't recycled, so they wind up in landfills, litter streets and add to the estimated 8.5 metric tons of plastic debris in oceans annually." -- strawfilms.com.
###
Delia Bense-Kang serves as the Northcoast Environmental Center's Marine Protected Area Outreach Coordinator and chairs Surfrider Foundation's Humboldt Chapter.