UPDATE, 4:30 p.m.:
Mendocino County Sheriff Tom Allman reported today that the death toll from the Redwood Valley Incident Fire has risen from six to eight.
"I flew the fire this morning, and it's more devastating than I had even [received quotas for]," Allman told the public during a press conference in Ukiah this afternoon. "If we were thinking that there were just 50 structures and 40 outbuildings, I'm here to tell you that's not true. It's much higher."
Sheriff Allman said that the fatality count will continue to rise tomorrow.
"Unfortunately, I'm going to tell you tomorrow — once confirmation has happened — that number will go up," Allman said. "However, these fatalities are not occurring day after day. These were fatalities from the very initial fire."
Allman said the death toll is increasing as rescue crews continue to search the properties of people reported missing by their families.
For more information, you can listen to the entire hour-long press conference embedded below:
###
All of Mendocino County's Potter Valley was evacuated last night due to the 32,000-acre Redwood Valley Incident Fire, which has killed six and displaced roughly 8,000 people at this time.

The Mendocino County Sheriff's Office reports that Potter Valley and all roads feeding into Potter Valley Road were evacuated at around 7:30 p.m.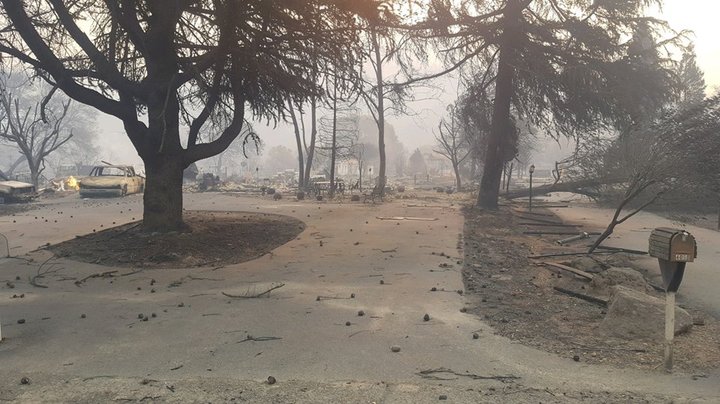 Sacramento's KXTV reports that emergency shelters have been set up at Ukiah High School and Willits City Hall.
The Sacramento Bee reports that animal shelters been set up at the Mendocino County Animal Control office. The Humboldt County Sheriff's Office announced yesterday that horses belonging to Potter Valley residents can be brought to either the Boonville or Lakeport Fairgrounds.
As of this morning, the Redwood Valley fire has destroyed 250 homes and threatens 1,000 more.
The fire is 5 percent contained.
Potter Valley Ca wildfire 40-60 mph winds https://t.co/4m0kASTVRY

— Clifford Dean (@1CliffordDean) October 9, 2017