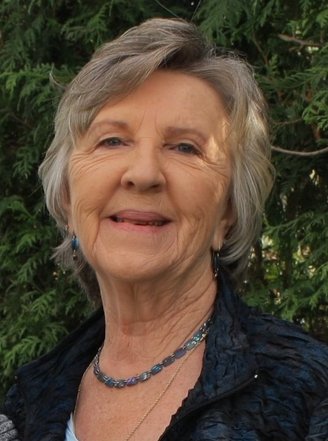 Ruby Fay Seal was welcomed home Oct. 12, 2017, in Eureka, where she joins her mother Ruth Madena Seal, father Archie Lern Seal, brother Emil Archie Seal, and granddaughter Julieza Kay Payton in the Kingdom of Heaven; for that we rejoice.

As for her earthbound family, we extend our hearts and arms to offer comfort to ease the pain of her loss. As we all walk through this journey, turn your eyes upward often, and be reminded that our loved ones who go before us continue to participate in our lives in ways yet to be revealed.
Ruby was born in Oklahoma and settled in California in 1963. Ruby had six children: Suzette Mayfield - husband: Bishop Mayfield, Charlotte Rose, Jeffery Payton, Annette Nickols - husband: Tim Nickols, Ronald Payton Jr. - wife: Julie Payton, and Christopher Payton.
Ruby had eighteen grandchildren: Jill, Jesse, Jeffery, Troy, Stesha, Adam, Savanna, Paige, Courtney, Nicholas, Julieza, Patrick, Kyle, Derek, Ronald, Justin, Liam, and Benjamin. Ruby also had eight great grandchildren: Hayden, Keegan, Andrew, Bella, Jaylee, Aubrey, Brooke, and Kimberly.
Ruby loved to share the memories of her brother and sisters: Everett Wayne Seal, Gorman Ray Seal, Leroy Lern Seal, Ruth Ann Williams, and Robbie Sue Snider.
Ruby loved gardening and canning, and shared this knowledge with her children and grandchildren, she was one of the best pie makers in the west and always made sure to do everyone else's dishes no matter where she was.
Ruby loved doing puzzles and a good game of cribbage, she especially loved doing arts and crafts with her grandchildren and great-grandchildren. We will all miss the annual tradition of making Christmas candy together into the wee hours of the night.
Ruby was a member of the Blue Lake Community Church, where she was active about God's business. She loved talking about and sharing the Lord.
Ruby loved admiring God's magnificence in nature and reminded us all how great our God is. Throughout her battle with cancer, Ruby was steadfast in reminding all of us that "Our Faith Has To Be Stronger Than Our Fears." May the deepening of our faith in God's promises continue to comfort us.
Service will be held at the Blue Lake Community Church (440 Wahl St.) on Oct. 28, 2017 at 1 p.m. Celebration of Life will follow at the Samoa Mansion: 115 Rideout Ave., Samoa.
###
The obituary above was submitted by Ruby Seal's family. The Lost Coast Outpost runs obituaries of Humboldt County residents at no charge. See guidelines here.