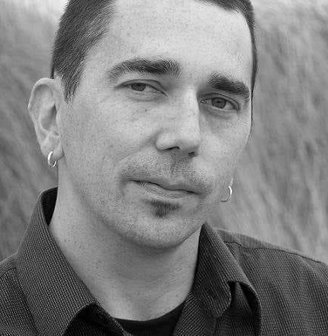 The one-of-kind tattooed man with a heart of gold Tim Costa passed away unexpectedly on September 21, 2017.

He was born October 26, 1972 to Leilani and Danny Costa at the Fort Campbell Kentucky Military Base, where his father was stationed as part of the 101st Airborne.
Tim came into this world against his will, and his arrival took so much assistance from the doctors that he had two hematomas on his head, broken blood vessels on his eye and scratches on his face. His mother says that he looked like a little baby Rocky. After the swelling went down, Leilani and Danny were relieved to see that they had a beautiful baby boy. When Tim was six months old they moved back to their hometown of Trinidad. Tim was the first grandbaby, and the first boy, so his grandparents doted on him greatly.
Tim's great-grandmother Katy State was the Katy of Katy's Smokehouse in Trinidad. His grandparents Ed and Catherine Costa had lived in Trinidad most of their lives and raised their family there. Leilani and Danny recall that everywhere they went, people would comment on what a good baby Tim was. People always stopped to talk to him. When Tim was still a baby, his parents moved to Washington for work, but came back to Humboldt County often to visit their family and friends.
When Tim was two years old his parents gave him a baby brother, Caleb. The mischievous pair were the best of friends and grew up tormenting and defending one another. Tim and Caleb made a lot of friends in Washington and were always together, the friendships they formed have continued throughout their lives.
At the age of 15, as Tim was deep in the rebellious teenage years, it was decided that he would go to live with his Grandma Catherine in Trinidad. He and his grandmother were very close. She and her boyfriend Ken took Tim with them to Costa Rica for a month while Ken observed and documented rare birds for Humboldt State University. Tim enjoyed watching Judge Judy and Jeopardy with his grandma, who he was convinced had superior knowledge to anyone else he'd ever met … until he realized they were watching reruns of Jeopardy.
Catherine encouraged Tim's talents, and even allowed him and his friends' band to practice in her living room. Tim started playing the guitar at an early age — he was self-taught and played music by ear. If he heard a song, he could usually figure out how to play it. This was true with all instruments. If he could get his hands on it, he could play it — drums, piano, harmonica, guitar, and vocals — he had a natural ability with music that was only limited by his shyness. Tim was passionate about writing songs and playing the guitar. Music allowed him to express himself and allowed others to see the softer side of him that was sometimes obscured by his unique choice of fashion. Being a young man wearing eye liner, with a leather jacket, long hair and earrings, in Trinidad was a unique sight.
It was while he was a young man living in Trinidad that he met the love of his life, Stacey Lyon. In 1989, down Rock Quarry Road, the two met, and from the moment they saw one another, they fell head over heels in love. The rebellious rocker with intense green eyes was the coolest person she had ever met, and he could not keep his eyes off of the blonde-haired, blue-eyed, rule-following cheerleader. Tim and Stacey spent as much time together as possible as kids, singing, playing music, writing songs, hiking around Trinidad, and sneaking out getting into trouble together. The years that he spent in Trinidad living with his grandmother were wonderful, but eventually, it was time for him to move back to Washington, leaving he and Stacey both heartbroken.
Tim had several jobs while he was living in Washington, he was most proud of working on the interiors of planes at Boeing, and working at a paint and body shop with his brother, Caleb. The two of them would spend time painting cars and hanging out with friends, making memories together that will last a lifetime. This was also when Tim and Caleb were blessed with the addition of their little sister, Katie.
Tim went on to have three wonderful sons with three wonderful women. Connor, Cade and Zachary are all unique young men, each have adopted various talents and positive pieces of their dad. Although Tim never married any of their mothers, he continued to have much love and respect for them, and counted each of them as close friends. Tim was especially close with his oldest son's mother, Pam, who he could always confide in and laugh with. He didn't hide the fact that he had struggled with addiction.
In those early years, while he made wonderful friends, he had a lot of fun, went to amazing concerts, and had his sons, who he loved deeply. He realized that to be a better dad and a better man he needed to be sober. His mom gladly helped him check into rehab in early 2004.
In the meantime, his muse, Stacey, who was still living in Humboldt County, had gone on to have a daughter, Katelyn. She remained friends with Grandma Catherine, and reached out to her to check on Tim. Since he was doing well, Grandma thought that it was a good time to play matchmaker, and happily put the two of them back in touch with one another. Tim and Stacey knew that they still had very deep feelings for one another, and spoke as though no time had passed. In June of 2005, Tim moved back to Humboldt County to be close to her. Tim and Stacey married in August of 2007, in Westhaven, not far from where they had first met. They lived with their children Connor and Katelyn, and were so excited to be able to share their love of music with their kids.
The Costa family would throw Halloween parties, dances for the kids, spent time at the beach in Trinidad, took vacations together, created art and made wonderful memories in all of their daily routines. When Tim and Stacey looked at one another, you knew they were in love. The way that they spoke about one another, you knew it was real, and to watch them create music together, you knew you were watching a once in a lifetime love story. Tim happily adopted his daughter, Katelyn, at her request, and having a little girl brought out even more of the sensitive side to him.
Tim worked many jobs in Humboldt County over the years. He was a cabinet installer and overhead door tech at Thomas Home Center. He worked as a floor tech for Restif Cleaning Services. He worked in the warehouse at Fortuna Ace Hardware, and most recently he worked for Humboldt County Building Maintenance as a carpenter. He was always proud of the work that he did. He had gone to college two separate times in his life, the first to become a certified mechanic and the second time to pursue his interest in working on computers. Tim made friends at each of his jobs, he made friends everywhere. It was hard not to want to spend time with someone so funny, sarcastic, talented and caring.
Tim was an intense man. Whether he liked you or not, you knew it. He didn't like small talk, but never believed that talking about your emotions was a small thing. He was an introvert, until he knew you, and then became very friendly and open. He looked tough, but had a soft heart. His tattoos and deep voice would lead you to believe that he was in a bad mood, even on his best days, but he rarely was. To see him with his dogs or hear him talk to his mom on the phone was a shock to many. The instant he saw his puppies or got on the phone with his mom, his voice raised an octave and the laugh lines in his face grew deep with a smile. "Hi Mama" you could hear him almost yelling with excitement as the two of them laughed and teased one another.
Tim will be remembered as an artist, musician, free thinker, a poet, a story teller, a craftsman, an avid shooter, a die-hard Star Wars fan, a believer in magic. He will be remembered for his sarcastic quick wit, as a man who had great respect for our military and the police, someone who was not impressed by material things, but who valued love and friendship to his core. He was someone you could count on to stand up for another person and see beyond outward appearances. He openly supported equal rights for all. Because of these qualities and beliefs he was blessed to surround himself with a wide variety of true friends. Most importantly, Tim will be remembered as a loving husband, father, son, brother and friend.
Tim is survived by his wife, Stacey Costa; children, Connor Costa, Cade Windell, Zachary Costa and Katelyn Costa; granddaughter Peyton Costa; parents, Leilani Young and her husband Mike, Danny Costa and his wife Leanne;bBrother Caleb Costa; sister Katie Costa; niece Mahu; his aunts, uncles, many cousins; a large family of friends; and his beloved dogs Kenobi and Lina.
He was preceded in death by his great-grandma Katy State; grandpa Ed Costa; grandma Catherine Costa; his eldest son's mother, Pamela Parker; and many other family and friends.
There will be a celebration of life on Nov. 6 at 2 p.m. at the River Lodge in Fortuna. All family and friends are welcome to attend. In true Tim Costa style, we will be wearing black.
###
The obituary above was submitted by Tim Costa's family. The Lost Coast Outpost runs obituaries of Humboldt County residents at no charge. See guidelines here.