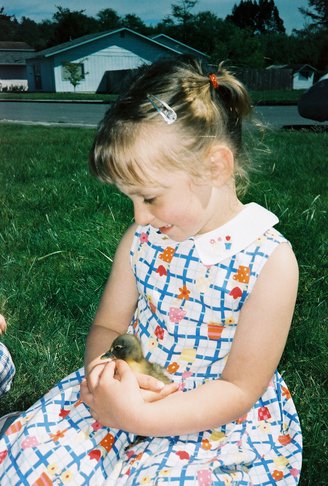 Courtney Anne Feraru was born at General Hospital in Eureka on Oct. 27, 1994. She went home to our Lord and Savior on Oct.11, 2017. She was a lifetime resident of Arcata who graduated valedictorian from her class at Six Rivers Charter School. At the time of her death she was attending College of the Redwoods.

Due to her extremely high IQ she was recommended to join MENSA. Despite her beauty, brains and multiple gifts and talents, Courtney remained humble and kind, with a beautiful heart, grounded in love. She loved her cats: Iris, Ignis and Zombie. Courtney had an old-school sultry voice and loved to sing at karaoke, mainly the blues. She loved the beach and the redwoods. She was an amazing writer and artist as well. Courtney will be dearly missed by the countless lives that she touched. She had a most contagious laugh that made you smile. Courtney was also blessed with the most beautiful big green eyes and long wavy brown hair.
She was the daughter to Philip Thompson Feraru and Lisa Carole Feraru. Courtney was sister to: Glenn William Whitfield, Amy Kirsten Feraru, Ashley Gloria Feraru-Davis, and Ella Charlene Davis. She was sister-in-law to Eoin Davis and Jennifer Whitfield. She was granddaughter to Arthur Norman Feraru and Anne Thompson Feraru, John Levaditis and Gloria Jackson-McDowell, and Jose Reyes Rodriguez. She was niece to: Robert T. Feraru and Monica O'Grady, Sheila Eacret, Raymond Anthony Rodriguez, Deanna Rodriguez, Lacy Moore, Shana McClain, Shannon, and Tracy Steel, Jerry and Dixie Savage, Vickey Levaditis, Brenda and William Levaditis, Deon Schori, Victoria Vargas, Arlene Lopez, Ronald Wayne Morrow, Walter and Leanna Morrow, and Cathy White. She was Cousin to: Brian Feraru, Raymond Eacret-Lamberson, Jamie Lopez, Angela Reed, Kindy Cloakey, Travis, Juston, and Brian Steel, Mailisa and Vanessa Levaditis, Mariah Snowton and numerous other cousins.
Courtney was girlfriend to Kevin Tommila, he gave her true love. She was Auntie to: Glenn A. Whitfield, Logan Whitfield, Annabell Owen, Ripley Davis, Kiaya and Luka Davis-Severe. Courtney's extended family: Deenie and Paddy Davis, Megan Davis, Erin Davis, Reed Davis, Lynn and Glenn E. Whitfield, Brandi Bettencourt, Malcolm and Lenora Combs, Jessica Sousa, Jennifer Cejas, Maegan Cejas-Brassfield, John and Linda Fraley, Diane Ella Love, Gary and Lepeical Upshaw, Monica and Octavia Upshaw, Monique Smith, Micheal and Princess Burke, Willie, Micheal Jr. and Princess Burke, Malry and Debra Morrow, Zu-Kenya Zawadi, Sarah Murphy, Desiree George, Kym January and her children, and her many friends. She was discovered in her apartment passed away by her friends; Brandon, Andrew, and Bronwyn.
A Memorial Service for Courtney Anne Feraru will be on Nov. 5, 2017 from 1-4 p.m. at Grace Baptist Church at 220 Buhne St. in Eureka, officiated by Pastor Micheal A. Burke of Galilee Baptist Church. A potluck will follow. Chicken will be provided by the Mission Sisters of Galilee. Please bring a side dish. Arrive about 10 minutes early for limited seating, as Courtney touched so many lives.
###
The obituary above was submitted by Courtney Feraru's family. The Lost Coast Outpost runs obituaries of Humboldt County residents at no charge. See guidelines here.