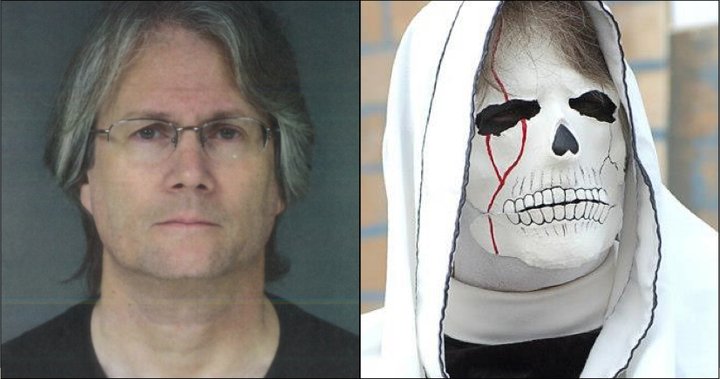 The Humboldt County Sheriff's Office announced Thursday it had arrested a Eureka man on a handful of charges related to alleged ongoing child sexual abuse.
A near month-long HCSO investigation resulted in 57-year-old John Robert Beideman being taken into custody at his Myrtletown home this morning. (Full charges in the press release at the bottom of this post.)
Beideman is known to many in Humboldt as the spectre-like Carpathian, "an iconic Humboldt County storyteller" who, since 2004, has spun ghostly tales from behind his skeletal face mask throughout the county, often around holidays.
Speaking last Halloween with the Times-Standard, Beideman, as Carpathian, said he hoped that his performances would help children to be less afraid of monsters.
"I think parents try very hard to shield children from what they think is scary and they tell them that monsters like me aren't real. None of that relieves anxiety for them and if you think about it at a certain age, the world itself is absolutely terrifying to a child who's probably only 3 feet tall," Carpathian said. More from the T-S interview:
[Carpathian] said children describe monsters to him as loud, frantic and jumping around, but [he] said he reminds them that they too are loud, frantic and crazy jumpers on the playground.

"I tell them that monsters are just like children, they're just playing. They're not going to hurt you and you're perfectly safe," Carpathian said. "In the end, it's OK to be a little afraid, just know that you're in good hands with Carpathian."
An example of Carpathian's stylings from YouTube below:
HCSO Lt. Michael Fridley would not reveal much about the his department's investigation of Beideman but he reinforced the seriousness of the charges.
"These are all felonies. These are all bad things that you go to prison for a long time on," Fridley said.

Humboldt County Sheriff's Office press release below:
After an almost month long investigation, 57 year old John Robert Beideman was arrested at his Myrtletown home in Eureka. A search warrant was also served on his residence at the time of his arrest.

Beideman was booked into the Humboldt County Correctional Facility for the following charges.

PC 288.5 (a) Continuous sexual abuse of a child under the age of 14 years
PC 288.7 (a) Sexual intercourse/sodomy with a child 10 years old or younger
PC 288 (a) Lewd or lascivious acts with a child under the age of 14 years
PC 288 (b) (1) Forcible lewd act upon a child
# # #