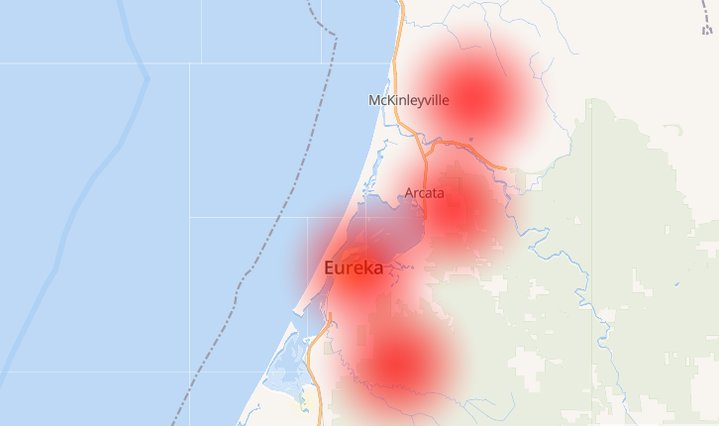 UPDATE, 1:19 p.m.: 911 service is back in effect in Arcata, the city says.
###
The major wildfires burning to our south are wreaking havoc on our local telecommunications, especially for AT&T customers. Most alarmingly, 911 is down in Arcata, and the California Highway Patrol's computer-aided dispatch (CAD) system is down, limiting the agency to radio communications.
Arcata residents with emergencies are being instructed to call the Arcata Police Department at (707) 822-2424. For non-emergencies call (707) 822-2428. The city has no time estimate for 911 service restoration.
The City of Eureka's phones are down, also due to AT&T. In a press release, Eureka officials said urgent problems, such as major water or sewer leaks or traffic hazards, should be reported to the Eureka Police Department's business line at 707-441-4044. And 911 should be used only in cases of true emergencies.
The outages aren't limited to AT&T customers. The Outpost has gotten reports from readers whose cell service is down. And Frontier land line service is down in the Ferndale area, perhaps elsewhere.
We also got a message from Northern Humboldt Union High School District Superintendent Roger McDonald saying the district's phone lines, which are internet-based, are down. They asked the Outpost to pass this message on to parents of district students:
We are working on an analog solution. We will contact you when we have phone numbers online. In the meantime, if you have an emergency, stop by your school office. School remains open during this time.
We'll update as more information becomes available.