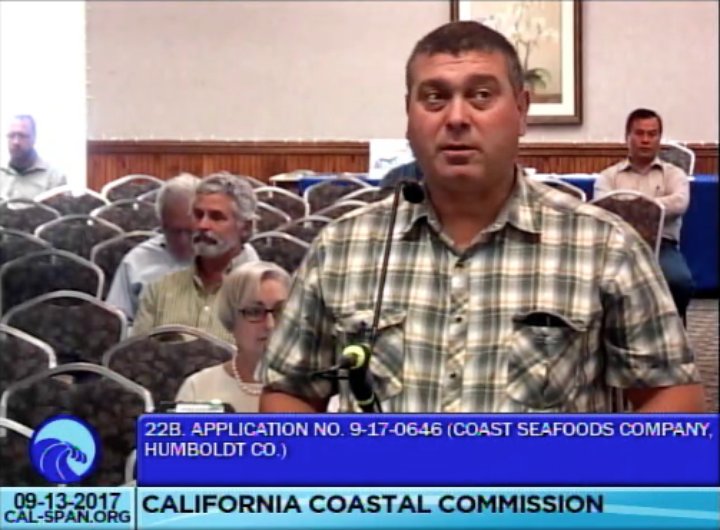 After years of fighting, rejection and compromise, things were relatively kumbaya today at the California Coastal Commission meeting down in Cambria as commissioners unanimously approved Coast Seafood Company's permit application for a consolidated expansion of oyster farming operations in Arcata Bay.
The project had been opposed by organizations such as Audubon California and the California Waterfowl Association, whose members argued it would negatively impact eelgrass and tidal flat areas where shorebirds forage. Hunters of black brant, in particular, were concerned that they'd have fewer of the migratory sea geese to shoot if their habitat were reduced.
But the Board of Supervisors sent a letter of support for the project, and even local environmental groups such as Humboldt Baykeeper were in favor of it, saying oyster farming operations have served to improve the bay's water quality, thereby allowing eelgrass to thrive.
When the commission rejected Coast Seafood Company's previous permit application back in June, some speculated that the company might abandon aquaculture in Humboldt Bay altogether. But in August the commission renewed the company's shellfish permit through the end of the year, and today it approved a significantly modified project application, one that looks drastically different than the original proposal, which called for expanding the company's aquaculture footprint by more than 600 acres.
Instead, the total acreage of Coast's oyster cultivation beds will actually shrink — from 300 acres down to 279 acres, according to a staff report. Nevertheless, the company plans "to increase its overall production levels by using cultivation techniques such as baskets on longlines that achieve more production per acre," the report explains. It also has promised to remove some existing oyster beds in the central and far eastern portions of Arcata Bay and relocate them to a spot further west in an effort to reduce eelgrass impacts.
Those are just a couple of the numerous special conditions imposed on the project as conditions of approval. Coast also must limit its operational footprint over the next eight years to no more than 279 acres, just a fraction of the 4,313 acres the company owns or leases in Humboldt Bay. And the company must also take measures to protect brant populations by following vessel transit lines and establishing buffer zones around areas where the birds collect sandy grit (something that apparently aids in their digestion).
These and other conditions were developed through intensive collaboration. The Coastal Commission staff reports note that they and Coast Seafood Company staff "spent a significant amount of time with other local, State and federal resource agency staff and stakeholders," including tribal members, environmental organizations and waterfowl hunters, to come up with a plan that threads the needle through their respective concerns.
Project critics weren't entirely appeased, though. During the public comment period, Michael Lynes, director of public policy for Audubon California, said that while the proposal was much improved from previous versions, his organization would ask for more amendments and conditions to protect herring, eelgrass, brant and shorebirds.
Scott Fraser, a Humboldt County resident and member of the Black Brant Group, said Coast Seafood Company should be forced to relocate an additional 26-50 acres of oyster culture.
But Cassidy Teufel, a senior environmental scientist with the Coastal Commission who presented the staff report today, said that the project as now designed likely wouldn't have negative environmental impacts given the updated parameters and the conditions required.
Humboldt County Supervisor Mike Wilson made the trip down to Cambria to address the commission. He said that with his 25 years as an environmental engineer, he believes oyster farmers have "saved Humboldt Bay" on several occasions — preventing new pulp mills from locating on the shores, fighting against waste lines that would have dumped effluent into the harbor and, more recently, helping to finance the removal of four million gallons of toxic liquors abandoned by the last pulp mill operator.
"This is a great compromise," Wilson said of the updated application.
Humboldt County Supervisor and Coastal Commissioner Ryan Sundberg also thanked commission staff and Coast Seafood Company for their hard work. "There was some panic in Humboldt County when this failed last time," he said. Addressing Coast, he added, "You guys hopped into gear and listened to the commission's concerns. I really appreciate it."
Sundberg made a motion to approve the coastal development permit, subject to the conditions outlined by staff. The motion was quickly seconded, and after some minor staff grilling from fellow commissioners the motion passed unanimously.
For more details on the project and the conditions of approval, click here to read the Coastal Commission staff report.