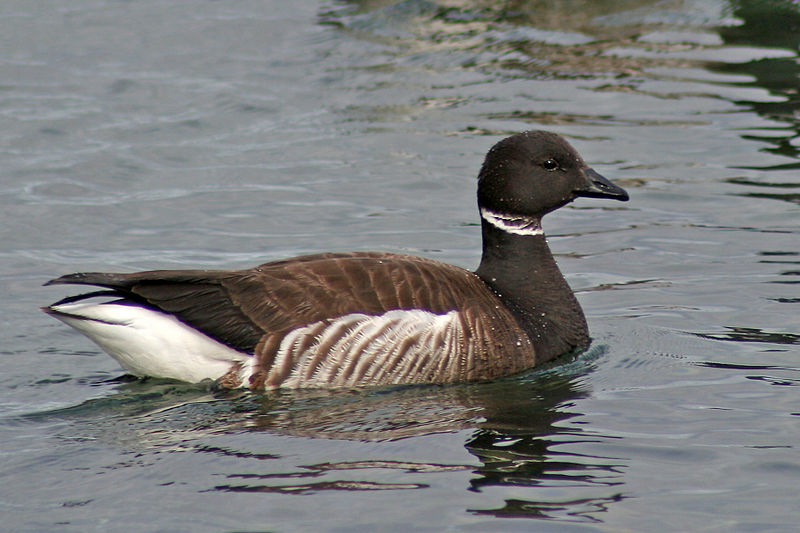 Pacific Brant Goose. Wikimedia Commons.
The Audubon Society today launched a public relations campaign against a proposal to expand oyster farming on Humboldt Bay. The group argues that the project threatens to destroy sensitive bird habitat.
Audubon California, a division of the national nonprofit, set up a page on its website urging supporters to send a form email to Richard Marks, president of the Humboldt Bay Harbor, Recreation and Conservation District Commission.
"As someone who cares deeply about California birds and wildlife," the email begins, "I'm writing to ask that you and your fellow commissioners reject the proposal from Coast Seafoods' Company to expand aquaculture operations for oysters and other shellfish an additional 622 acres, almost exclusively into healthy eelgrass beds. This massive proposed project would convert an incredible 5% of the state of California's eelgrass and 11% of Humboldt Bay's eelgrass, to oyster farming."
Coast Seafoods, the largest oyster farmer in Humboldt Bay and the state, has been growing and harvesting the bivalves locally for decades. According to Harbor District Executive Director Jack Crider, the company owns or leases some 4,000 acres of potential oyster farming grounds on the bay and is currently using just 300 of them. A proposal to expand the farming by another 600 acres is still in the early stages. An initial study was recently submitted for public comment, and Crider said he expected some public pressure to submit the project to a more vigorous environmental impact report (EIR).
"When I saw the first letter — and then the next hundred letters — I thought this is what they're trying to do," Crider said. "They sent the same letter over and over again with different names."
Audubon suggests that an expansion of Coast Seafood's oyster farming project would impact a wide variety of species on the bay, including migrating Pacific Brant Geese, Godwits, sandpipers, "plus tens of thousands of other wintering shorebirds." Converting eelgrass to oyster farming, Audubon says, could also impact the bay's run of Pacific herring, a primary food source for such birds as Brown Pelicans, Brandt's Cormorants, grebes and more.
"Any change to existing operations must be subject to comprehensive environmental review," Audubon says on its website.
Crider said Harbor District staff will "put their heads together" to discuss the matter. He suggested that the District's Board of Commissioners would likely recommend doing a full EIR, though he added that the the decision is ultimately his.
"We've got a long way to go," Crider said of the regulatory process.