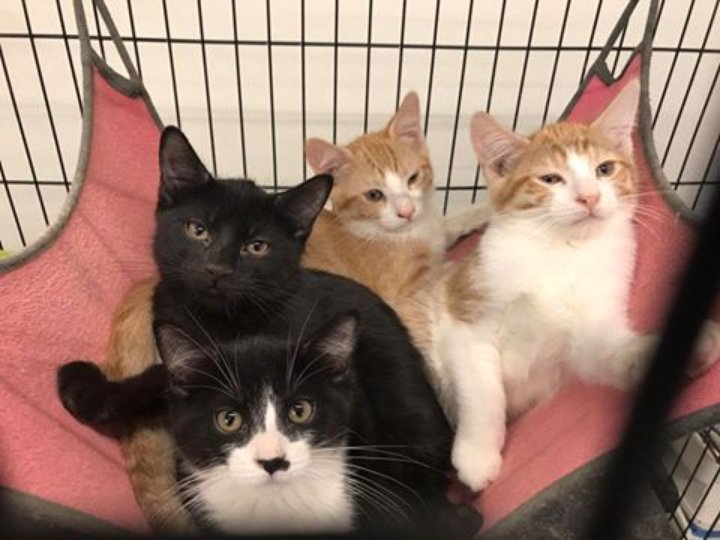 A cat-astrophic amount of kittens has been dumped on Humboldt Animal Rescue Team's doorstep this month.
HART is currently at capacity after an influx of 45 kittens. The organization says its kennels are filled and that it will be unable to rescue any more cats in the meantime.
As a result, HART has temporarily lowered its kitten price to $120 in hopes of freeing up some space.
Check out these photos of HART's adoptable felines, and read more from the organization below:
HART (Humboldt Animal Rescue Team) is a local 501 (c) Organization dedicated to reducing the number of homeless animals in our community.

Now through the end of September we will have kittens available for just $120. All kittens are spayed/neutered, test negative for FIV/FeLV, have received the first FVRCP vaccine, and have been treated for worms and fleas.

Open Hours Tuesday, Saturday and Sunday 12-3 pm. Located at the Corner of 6th and A Street, Eureka (8 West 6th Street), Call or text or email for appointments.

We have around 45 kittens available for adoption right now. Lots of great personalities. Tuxedo kittens, all black kittens, orange and white tabby kittens, grey tabby kittens, Maine Coone mixes, and Tortishell's.
Thank you Ashley Villa-Lovos Petography for the lovely photos of our adoptable kittens and cats!

HART is also looking for responsible, reliable, animal lovers who are 18 years or older to volunteer as kennel attendants during weekdays about 2 hours/per week. If you or someone you know is interested applications are available on our website www.humboldtrescue.org/volunteer.