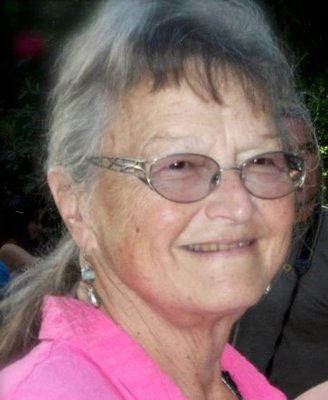 Roxana Louise Hand (Weibel) took her last breath and left her body behind on Sunday, September 3, 2017. She was 77 years old. She was a remarkable woman who will be missed by anyone fortunate enough to have known her.

Roxana was born in Oklahoma, but spent her early life in Redondo Beach, California, where she grew up alongside her two sisters, Twanye and Carolyn. She had many great stories of adventures on the Redondo Beach Pier.
She had three daughters and raised them as a single mother. While working and completing her Bachelor's degree from Pepperdine University, Roxana maintained impressive status on the Deans Honor Roll.
Aside from her family, Roxana was always involved in many organizations. This allowed her to connect with people, forming many long-term friendships. While living in Southern California, Roxana discovered a UU fellowship and joined a women's group there. She often said that group turned her mind and life around. Unitarians have been an important part of her life ever since. Roxana spent some time as an American Sign Language Interpreter in Los Angeles. She always enjoyed signing along to any song. Roxana was involved in the Radical Psychiatry group in Atlanta and Southern California.
Over the years, Roxana was involved in several business women networking groups. Roxana was always willing to volunteer, especially if young people were involved. One of her favorite organizations that she was involved with was the Atlanta and San Francisco branches of the NYC based All Stars Talent Show Network for disadvantaged kids. She talked excitedly about the talent and commitment she saw in these young people. Roxana sang with the Atlanta Feminist Women's Choir and the Arcata Interfaith Gospel Choir. She was an active member of Humboldt Unitarian Universalist Fellowship, and worked at College of the Redwoods Child Development Center as the business manager. Roxana was often the first smiling face young children saw as they started their day.
However, there was nothing Roxana loved more than being a grandmother. Her six grandchildren were her pride and joy in life, and ultimately what brought her to the Bay Area and then Humboldt County after living for many years in Atlanta, Georgia.
Our 'Grandma Roxie' will be remembered for so many things:
Her willingness to adventure anywhere at any time.

For being Arcata High's #1 cheerleader at every home football game, cross country meet, and track meet.

For being the #1 cheerleader for the E & O junior bowlers.

A familiar face at school functions, including Pacific Union, Coastal Grove, Six Rivers Charter High School, and Arcata High School.

A good friend, always ready with a hug.

Her house was a place where any of those grandkids could come and get away.

Her strength (as well as a bit of crazy) these last few years as she lived with the effects of a stroke.

Being always ready to listen to our latest story.
Roxana was truly the center and the root of our loud, fun-loving family. She would never let you through the door without first giving her a hug. Through her, or in spite of her, we are all friends. We so value the time we get to spend together, just as she looked forward to each and every moment she got to spend with one of her daughters or any of her grandchildren. Stories of Grandma Roxie will, no doubt, be a part of our gatherings. She will not be forgotten.
xoxo gma, rest in paradise.
Roxana is lovingly survived by her family; her three daughters and their husbands, Tami and Don Waddell (Walnut Creek CA), Pam and Greg Goldsmith (Portland OR), Susi and Mark Huschle (Arcata). Her six Grandchildren; Alassane Goldsmith (Kevin Johnson Jr.), Christopher Waddell (Emily Snyder), Elizabeth Waddell Myers (Spencer Myers), Greta Huschle, Louis Goldsmith and Adam Huschle. Her two sisters, Twanye (Peter Mueller, Heidelberg, Germany) and Carolyn Weibel (Eureka). Her niece, Nicole May (Rob) and her nephew, Stefan Mueller of Heidelberg, Germany. She is also survived by longtime friend and companion Diane Dickson (Arcata).
Go now in peace …
Please join us for a celebration of Roxana's life on Oct. 21, 2017 at 7 p.m. At the Humboldt Unitarian Universalist Fellowship located at 24 Fellowship Way, Bayside.
###
The obituary above was submitted by Roxana Hand's family. The Lost Coast Outpost runs obituaries of Humboldt County residents at no charge. See guidelines here.