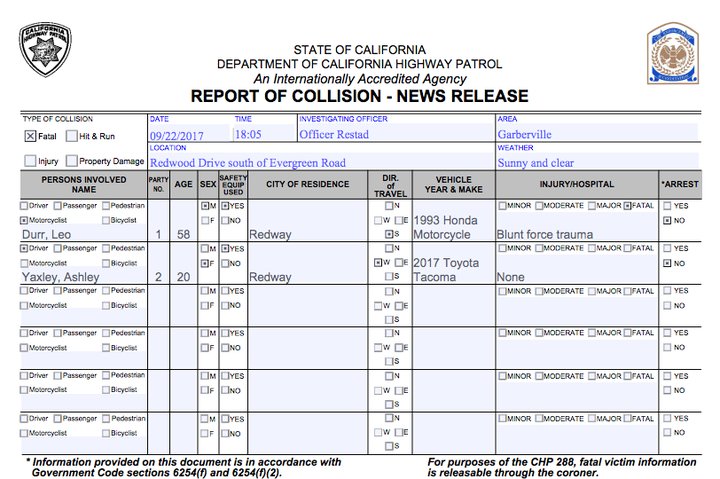 CHP press release:
On September 22, 2017, at approximately 1805 hours, in the Garberville CHP Area, Party #1 was driving his 1993 Honda motorcycle southbound on Redwood Drive, south of Evergreen Road at an unknown speed. Party #2 was driving her 2017 Toyota Tacoma southbound on Redwood Driver ahead of Party #1. Party #2 was attempting to make a U-turn in the Tacoma by turning to the left. Party #2 realized there wasn't enough space to complete the U-turn. Party #2 put the Tacoma in reverse and steered to the right. As Party #2 was backing up, the front of the Honda motorcycle collided with the rear of the Tacoma. Party #1 was ejected from the Honda motorcycle and flew over the wood/metal guardrail. Party #1 landed at the bottom of the extremely steep embankment, approximately 250 feet below, and came to rest in the water of the South Fork Eel River.


Party #1 was given life saving medical efforts by Redway EMS personnel, but to no avail. Party #1 was pronounced deceased at the scene at 1844 hours, by Redway EMS personnel.

The Redway EMS, the California Department of Forestry-Garberville and the Humboldt County Coroner provided assistance on scene. Alcohol does not appear to be a factor at this time. This incident remains under investigation by the Garberville CHP office.