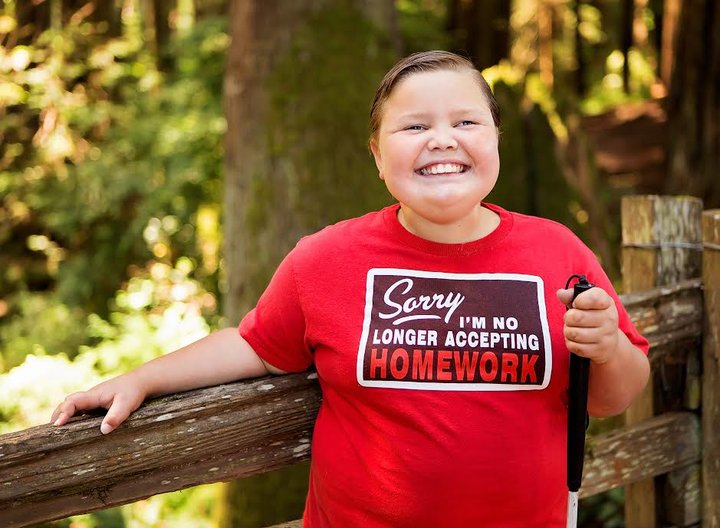 Oliver Andrews Zuniga, age 13, transitioned to Heaven on Labor Day, Monday, September 4, 2017, at his home in Eureka, CA at 2:35 pm in the arms of his mother and his Best Friend Max Randomness. Oliver once said when he was younger, "Don't worry Mom, when I die and go to Heaven I will be able to see again!" Oliver knew he was going to Heaven, he knew he would be able to see and ride that scooter once again.

Oliver was born February 14, 2004, in Eureka, CA to Desirae Andrews-Zuniga and Daniel Zuniga. He was my valentines' baby, and I was so excited to be his mother. He was a happy baby, always smiling. This was his personality, happy and eager to live life each and every day. Oliver was a first grader at Alice Birney School when he was diagnosed with Medulloblastoma. He was blinded at the age of 6 ½ from this horrible cancer. He kept a good attitude, his gratitude to be alive with his family was enough to get him past losing his sight. Once back in school Oliver met Max Randomness. Max was his classroom aide. He made learning braille fun! Oliver met Rose Hughes this year as well, his very first friend at school. Rose looked after Oliver throughout their elementary school years. They had a very special friendship, a friendship that Oliver loved and cherished.
As a student at Winship Junior High, he looked forward to going to school every day. To learn new things and spend time with Max, his teacher and best friend. Oliver was beginning his eighth grade year. He was excited to be a part of the senior class. Despite being at home on hospice care, Oliver made it to class on the second day of school. Max was there sitting next to him as he read a part from The Wizard of Oz out loud to his classmates.
Oliver was always quick to offer a laugh or a big smile at something you said, and had an uncanny ability to reach people in a gentle, thoughtful and positive way. He had a niceness about him that he liked when people were kind and thoughtful. He would always say please and thank you. Oliver appreciated good manners.
Oliver loved music. He loved singing and his favorite bands were Skillet, Casting Crowns, Chris Tomlin and many others on the Air1 Radio. He loved talking about God and was comforted by his relationship with Jesus. Some of Oliver's favorite things to do were listen to Clifford the Big Red Dog and Sofia the First. His favorite movies were Cars, Spiderman 2, Starsky and Hutch and Stand By Me. He enjoyed traveling with his mom and sister, swimming, chatting on the phone or leaving voicemail messages (he had a list, those of you on it know who you are) whom he called in the same order almost daily, playing with his toys, hanging out with his cousins (loved the quad rides), and spending time with his friends and extended family.
In 2014 Oliver attended the Enchanted Hills Camp (EHC) for the Blind in Napa, CA. It was here that he learned how to be more independent. He looked forward to going to camp every summer. His first year at Camp he had the opportunity to learn to shoot a rifle. He loved it! The second year he learned archery and was equally as excited. His third and fourth years at camp he enjoyed the foosball table, bowling and staying up for the late night card games. Camp gave him many ideas of how he could live independently as a blind person, it gave him comfort and hope.
He is survived by his mother, Desirae, loving and devoted younger sister Jasmine Zuniga; Grandmother Patricia Graziose(Bill) of Cottonwood, CA; Grandfather Dale Andrews(Shirley) of McKinleyville, CA; very special Auntie Tara Andrews(G.Rotbergs) of Rio Dell, CA; Uncle Joshlin Andrews of Frederick, MD; Great-Aunt Julie Tucker(Sonny) of McKinleyville, CA, cousins Samantha, Madalynn, Mason & Carson Rush, Kaitlin & Wyatt Tucker, and many more extended family members. He is also survived by those who loved him like family, Max Randomness who made being blind bearable, Rose Hughes, Ashley Gouthier, Peggy Annis and "Uncle" Matt Shaw.
I want to recognize and thank Dr. Sonia Partap of Lucille Packard Children's Hospital of Stanford. You are an amazing person, for fighting right alongside us and for taking such great care of not only Oliver but myself and Jasmine as well.
Special thanks to the Eureka Police Department family for their care and support, medical staff at LPCH of Stanford and St. Joseph's Hospital and Hospice of Eureka. Thank You, to the staff at Ronald McDonald House at Stanford and to my followers/friends/supporters on social media for letting me share Oliver's journey, all of your love and support truly made an impact on our lives.
I asked Oliver, "What do I do when I miss you?"
He said to me, "Remember how joyful I was, Mom."
Family, friends, and all others whose lives Oliver touched are invited. Celebration of Life Sunday, October 1, 2017 3-5pm, Cutten Community Church 2020 Campton Rd, Eureka. Please bring a potluck dish and your favorite memories of Oliver to share.
If you would like to make a donation in memory of Oliver Zuniga, please do so online or by mail. A jukebox purchase for the dining hall at EHC will be made in the honor of Oliver's love for music.
Direct donations to: Enchanted Hills Camp for the Blind, In Memorium of Oliver Zuniga. http://lighthouse-sf.org/donate/form/.
Mail: LightHouse for the Blind, SF 1155 Market Street, 10th Floor San Francisco, CA 94103 IRS 501(c)(3) Federal Tax ID: 94-1415317
# # #
The obituary above was submitted by Oliver's family. The Lost Coast Outpost runs obituaries of Humboldt County residents at no charge. See guidelines here.