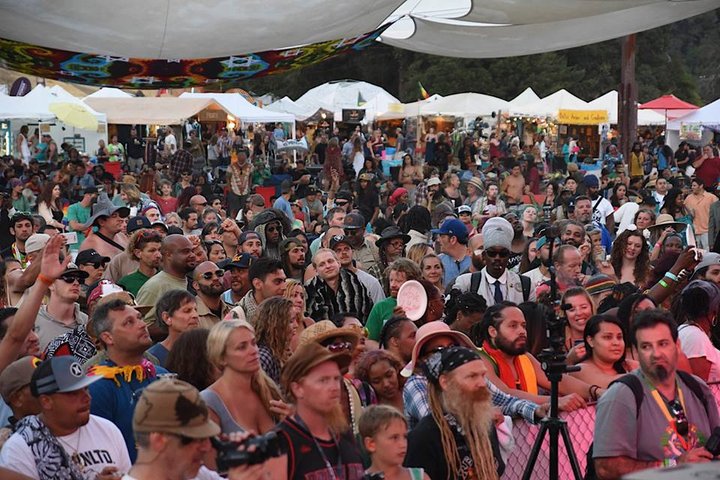 Justin Crellin, general manager of the nonprofit Mateel Community Center, isn't quite sure why the organization's trademark event and primary fundraiser, Reggae on the River, turned out to be such a financial dud this year. But he has some theories:
The low attendance may have had something to do with the lineup, with California-based acts such as Slightly Stoopid and Stick Figure proving less appealing to fans of old school roots reggae.
Or — a related theory — it may have to do with growing generational and cultural divides. Thirty-three years in, organizers of the annual festival are trying to appeal to young people and SoHum newcomers without alienating the fans who've been coming since the beginning. Plus there are now countless other music festivals to attend each year, including the Northern Lights Music Festival at Cooks Valley Campground.
And then there's the financial component. Anecdotal evidence suggests that the local weed industry — long the lifeblood of Southern Humboldt — has cratered this season, with an overabundance of product leading to sharp declines in wholesale prices. If people are working harder for lower profits, they're less likely to have disposable income for a four-day festival.
What's clear, Crellin said, is that it was the local community that didn't come out in its usual numbers to support the fest. In the weeks leading up to the Aug. 3-6 event, online ticket sales were strong, thanks largely to customers in the Bay Area and Sacramento.
"In the past with locals, the majority would either buy at local [ticket] outlets or come in [to the festival] for single-day tickets," Crellin said. But the usual 11th-hour "Humboldt time" purchases didn't materialize. "That's definitely where we saw a reduction this year. I would certainly say Reggae this year didn't have the local support we've had in past."
Meanwhile, locals have been offering their own reasons for skipping Reggae. In a Garberville-focused Facebook group, popular explanations include the length of the four-day event, the quality of the lineup, the price of tickets and a change in atmosphere of the event.
"The vibes at rotr went from peace and mushrooms to fuck off and cocaine," one woman wrote. "Times have changed."
Parents said it's not a friendly place for children anymore, and several women said they fear sexual assault (for which there is a precedent).
Another comment:
It used to be THE event of the year where all the locals turned up. We all camped together in volunteer camping and basically partied for two to three days. The drugs were lsd and mushrooms. The vibes were (mostly) friendly, safe, and happy. People looked out for and took care of each other. Last year when I went there were more hard drugs, lots of drunks, and a ton of rude people, not to mention three rapey vans with skulkers loitering around them. Didn't feel safe at all, didn't see many locals outside of the staff area, and certainly didn't remind me much of the "good old times."
Whatever the reasons, the result was a surprising and potentially devastating financial loss for the Mateel Community Center, an organization that offers everything from barbecues and music festivals to kids' aikido lessons, fine art programs, comedy, theater and more.
Last week Crellin sent an urgent email to members of the Mateel breaking the news and imploring them to attend a Sept. 19 meeting to discuss the future of the organization and the festival.
"Very challenging times lie ahead," Crellin wrote. "[T]here are difficult decisions to make, and the future of both [Reggae on the River] and the [Mateel Community Center] is at stake."
In a conversation with the Outpost earlier this week, Crellin elaborated a bit about what went wrong, what's at stake and what the changing SoHum community must do if it wants to save both Reggae and the Mateel.
Organizers worked to keep costs down, he said, reducing the number of comp tickets and bringing in more volunteers, but the lower attendance meant a double-hit on revenue, affecting not only ticket sales but also concessions and other income streams generated during the festival.
Regarding this year's slate of artists, Crellin said, "When we put these lineups together we try for diversity. We think about where reggae is globally as a genre." That means bringing in acts from around the world. But organizers are also conscious of changing tastes.
"It's been 33 years" since the festival began, Crellin said. "It's not same attendees as back in the day. … To stay relevant we need to cater to younger fans while remaining true to [Reggae] as a cultural event." Slightly Stoopid and Stick Figure have proven to be popular draws, with the former filling the Mateel. But they're not universally liked.
"We didn't feel we tipped the scales to being overly California, but there's a bit of a schism in reggae," Crellin said. "Our logic was to bring in younger folks, to cultivate an audience to support [the festival] in long the run."
He brought up the changing economy in Southern Humboldt, and we mentioned hearing stories about local weed farmers being unable to sell their crop for previously unheard-of low price of $750 or even $500 per pound.
"We were hearing the $500 figure," Crellin said. "That's definitely a factor."
But he thinks there also might have been a failure in messaging. Organizers haven't emphasized how important Reggae is to funding the Mateel throughout the year.
"That's not necessarily in people's consciousness, the correlation between those two things," Crellin said. "Reggae on the River and the Summer Arts and Music Festival are our two bread-and-butter fundraisers. It will be important to get people to understand the need for deep community support" if they want those events to continue, he said.
There are lots of new arrivals in Southern Humboldt, people who moved here to capitalize on the region's weed bonanza in one way or another. But the population boom doesn't automatically result in higher attendance at local festivals.
"Despite there being more people in hills these days, maybe some of the new arrivals aren't dialed in yet to the importance of these events," Crellin said. "We need to figure out how to invite some of these people to Reggae on the River and the Mateel [so they come] to view this as their community center."
How dire is the financial situation? Crellin didn't want to get into specifics. He just said that, because the festival has been such a reliable fundraiser for the past three decades, organizers were caught totally unprepared.
"To take a loss, that's just crippling," he said. The organization now has a "fairly significant debt load" that will "compromise the Mateel in the near term if a path forward doesn't emerge soon."
He's hoping to find investors or partners to help finance Reggae on the River and said a number of proposals have already been made. He's hoping more are presented at the Sept. 19 meeting.
"There's a lot at stake right now," Crellin said. "Is it possible that the Mateel will fall by wayside? Absolutely not. But Reggae on the River is a question mark."
He sounded stunned to be saying this about "probably the most iconic festival in Humboldt County," but he remains hopeful that it can be saved. With new ideas and, perhaps, some new investors he believes Reggae is "well-poised to enter another phase of existence.
Regardless, he said this is bigger than just one annual festival.
"Even if people aren't fans of Reggae on the River, other stuff is important. For fans of any style of art or entertainment, it's important to support the things you'd like to see happening in our community."
He implored people to show up at the meeting later this month with their opinions and ideas. The gathering will be held on Tuesday, Sept. 19, starting at 6:30 p.m. at the Mateel Community Center, 59 Rusk Lane in Redway.