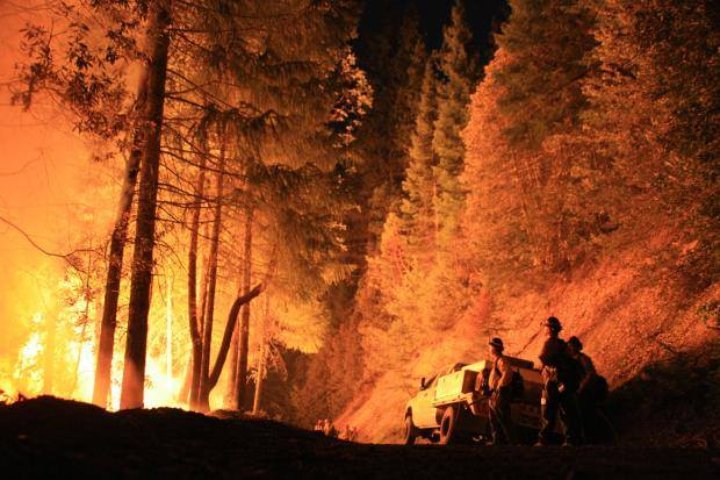 U.S. Forest Service press release:

EUREKA, California, September 9, 2017 – Current fires and fire complexes on the Six Rivers National Forest include the Orleans Complex and the Oak Fire (part of the Klamath National Forest's Eclipse Complex). "The rain that has passed through the area is a welcomed sight and will help us turn the corner on a big chunk of the fire", says Orleans District Ranger Nolan Colegrove.

Orleans Complex—Six Rivers National Forest (https://inciweb.nwcg.gov/incident/5430/): There will be a 3:00pm public meeting in Orleans today at the Karuk DNR Building. The purpose of the meeting is to provide an update about the status of the fires in the Orleans Complex and to answer questions.

Evacuations: At noon yesterday the mandatory evacuation order was lifted for zones 3 and 4, with an exception for the residents in the Patterson Road area. An advisory evacuation warning remains in effect for residents east of Highway 96 from Burns Creek south to Somes Bar, and along the Salmon River Road to Wooley Creek. Residents can stay informed of changing conditions by calling the fire information number (530-572-1129) or by watching for updates at http://www.facebook.com/SixRiversNFor https://inciweb.nwcg.gov/incident/5430/

In late July and early August a series of thunderstorms passed through northern California igniting many fires, including nineteen that are being managed as the Orleans Complex. The three largest are: theHaypress Fire at 20,356 acres, the Ukonom Fire at 4,234 acres, and the Burney Fire at 1,631 acres. The complex is being managed using a combination of full suppression, containment and confinement strategies; this work is estimated to be about 53% complete. A wildfire is contained when a control line has been completed around the fire, which can reasonably be expected to stop the fire's spread. Confinement means that a wildfire has been restricted to a defined area, primarily using natural barriers that are expected to halt the spread of the fire under the prevailing and forecasted weather conditions. Some suppression actions may be required to augment or connect natural barriers, including line construction, strategic firing, and/or bucket drops. Incident objectives are focused on providing for firefighter and public safety, protecting private property and cultural resources, and minimizing impacts to aquatic species, spotted owl habitat and bald eagle habitat.

There has been minimal fire behavior as clear skies and increased winds blew the thunderstorm threat out yesterday. Work continues around structures along Highway 96 from Somes Bar north to Burns Creek. The precipitation from Thursday's showers slowed fire behavior significantly, which has given firefighters an opportunity to begin constructing more direct fire lines. They are identifying locations where they can connect existing fire lines, old roads, and ridgelines to create firebreaks along the western edge of the Haypress Fire. A firebreak is a natural or constructed barrier used to stop or check fires, or to provide a control line from which to work. No significant activity was reported on the Ukonom or Burney Fires.

Eclipse Complex—Oak Fire—Klamath and Six Rivers National Forests: (https://inciweb.nwcg.gov/incident/5511/): Rain across the Oak Fire has significantly decreased fire behavior across the burn area.Crews will use favorable post rain conditions to seek out options to go direct on remaining open lines to cut off the fires spread on the west flank near Blue Ridge and the South Fork of Smith River. Crews have improved containment lines on the GO Road should the fire spread south out of the Siskiyou Wilderness. Crews plan to complete lines north to Kelly Lake to ensure long-term protection of Indian Creek from any remaining fire activity in the Siskiyou Wilderness.

Closures—Orleans Complex: Two closure orders are in effect for national forest roads, trails, and lands in the vicinity of Orleans Complex fires. For the Haypress Fire, Closure Order No. 17-05-801 is in effect on the Ukonom Ranger District. For the Ukonom Fire, Closure Order No. 17-05-797 is in effect on the Ukonom and Happy Camp Ranger Districts.

Closures—Oak Fire: Closure Order No. 10-17-09 and Closure Order No. 10-17-07 closes national forest trails, roads, and lands around the Oak Fire. Both closure orders remain in effect until the fires are suppressed and declared out.

All closure orders can be found at https://go.usa.gov/xRHYQ

Weather: Beginning today through Monday, a gradual warming and drying trend is forecasted, with an extended period of northeast to east winds. The strongest winds are expected to occur Sunday night andMonday morning across the ridgetops and upper slopes. On Tuesday and continuing through Thursday, there will be a chance of showers and thunderstorms to return to the area.



Safety: Motorists traveling on State Highway 96 are reminded that there will be numerous firefighting vehicles on the roadway.
State Road 299 is open for one way traffic. Be sure and check www.dot.ca.gov for current conditions.
Temporary flight restrictions (TFRs) are in effect over the Orleans and Eclipse Complexes.

For a complete list of TFRs, go to http://tfr.faa.gov/tfr2/list.html.
Fire-use restrictions are in effect on the Six Rivers National Forest (https://go.usa.gov/xRHYQ).

Heavy smoke throughout the pacific west will continue to affect the region. For up-to-date air quality advisories, call 866-BURN-DAY (1-866-287-6329) or go to www.ncuaqmd.org.