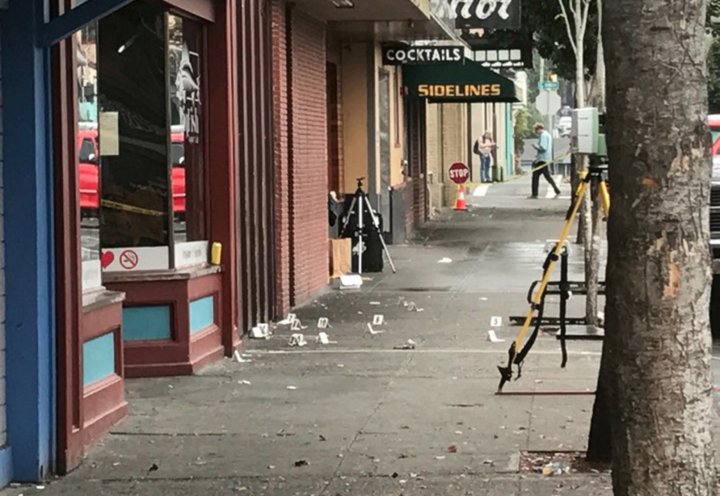 PREVIOUSLY:

Arcata Police Department press release:
On September 9, 2017, at about 1:25 a.m., the Arcata Police Department received a 9-1-1 call reporting a group of males physically fighting in the street near 9th and H Streets. Officers from Arcata Police and University Police Departments arrived on-scene at 1:27 a.m. When the officers arrived they did not see anyone involved in a fight. While they were in the area investigating, a bystander reported to an officer that one of the people involved in the fight had brandished a handgun. The bystander pointed out a vehicle with which they believed the person to be associated.

As the Arcata and University police officers contacted the occupants of the vehicle to investigate, a 26-year-old black male adult from Antioch, Tennessee got out of the rear passenger seat pointing a handgun at the police officers.

Initial reports indicate the man fired at least two shots at the police officers, one of which struck the University police officer. Both officers returned fire, hitting the man several times. Officers fired approximately nine shots in total. A handgun was recovered at the scene.

The man, whose identity is being withheld pending notification of family, was pronounced dead at the Mad River Community Hospital. It is anticipated that his identity will be released Sunday.

The University police officer who was shot was transported to a local hospital where he was treated and released late today. His injuries, while serious, are not life threatening. The officer has 12 years of law enforcement experience, the last two years with University Police. The Arcata police officer was not physically injured. He is a five-year veteran of Arcata Police Department. As is normal protocol in officer involved shooting cases, both officers have been placed on administrative leave.

This investigation is being led by the Humboldt County Critical Incident Response Team (CIRT). CIRT is a multi-agency team comprised of local law enforcement agencies that train and respond to officer involved injuries and deaths. In the case of incidents where an officer is involved in a shooting it is the best practice for outside agencies to conduct the investigation.

The Humboldt County Critical Incident Response Team for this investigation includes the Eureka Police Department, Humboldt County Sheriff's Office, Humboldt County District Attorney Investigators, Fortuna Police Department, California Highway Patrol and the Department of Justice Crime Laboratory. The results of the CIRT team investigation will be forwarded to the Humboldt County District Attorney for review.

Anyone who may have information about this case is asked to call the Arcata Police Department, (707) 822-2426.
MORE COVERAGE OF ARCATA PLAZA SHOOTING FROM OTHER LOCAL OUTLETS: