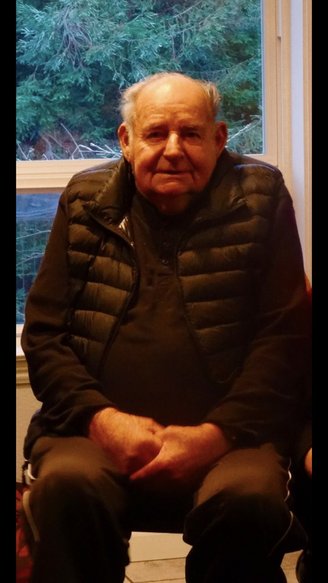 Alfred "Al" Joseph Christen, born February 1st, 1934, passed away in the early hours of April 9th. Son of George and Mary Christen, he leaves behind his wife of 55 years, Toni; two sons, Bart and Mark; a daughter-in-law, Tina; three grandchildren, Frankie, Hannah, and AJ; his grand-dog, Charlie; his brother Clifford, his sisters Eleanor, Carolyn (Howard) and Aileen, his sister and brother-in-law Libby and Frank Cerny; and with many nieces and nephews. He is preceded in death by his parents, his sister Cecilia, his brother Raymond (Dolly), and his nephew Frank (Frankie) Cerny Jr.

Al was born in Ferndale the sixth of seven children. He graduated from Ferndale High School in 1952 and began working for Pacific Lumber before joining the service in 1955. He was stationed in Orléans, France, returning home in 1957 with his favorite car, a light blue 1956 Austin Healey. Upon his return, Al began his 18-year career as a beer salesman. He met his wife and life partner in 1961, marrying in 1962. Building their first home in Eureka, the two started their family. In 1976, Al obtained his contractor's license, founded his small business — Chris Customs Building — moved to Willow Creek, and began building homes in the Bigfoot subdivision. In his later years, Al transitioned his contracting business to cabinet making.
Al and Toni were a perfect match. The two loved nothing more than going out to the shop, lighting a fire on a cold day, and woodworking. Together they created cabinets, tables and cutting boards that serve as works of art. He deeply enjoyed watching his sons and grandchildren participate in athletics, attending every game he could. His sense of humor was not appropriate for church, but his infectious laugh was enough to make anyone giggle at improper times. All the same, he is looking down from heaven with a scotch on the rocks in hand.
He will be remembered for his generous nature, donating countless pieces to school auctions and admirers of his craft. Al was the president of the Willow Creek Lions Club and a leader of a Webelos troop. He built the Arrow of Light bridge that is still used in the local area today by Cub Scouts bridging to Boy Scouts. He was a teacher at heart, spreading his knowledge of woodworking with his grandchildren, friends, and all who knew him. In lieu of flowers, the family kindly requests donations to St. Jude's Children's Hospital. Services will be held at Sanders Funeral Home on Saturday, April 21st at 1 p.m., followed by a reception at the Wharfinger Building at 2 p.m.
His family would like to offer special thanks to Lionel Lee, Jennifer and Michael Yarborough, Tony and Janice Cerny, Tina Christen, Jake Morris, Washington Elementary School's Fourth Grade Class, the PC Unit at St. Joseph's Hospital, Dr. Palacios and all those who have touched our lives.
###
The obituary above was submitted on behalf of Al Christen's family. The Lost Coast Outpost runs obituaries of Humboldt County residents at no charge. See guidelines here.