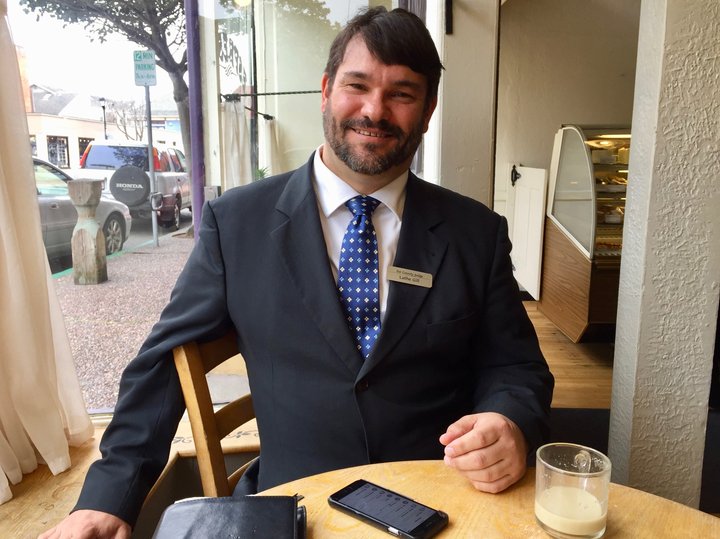 Lathe Gill sits in a window seat at the Ramone's in Old Town with three items on the table in front of him: an iPhone with a cracked plastic case, a black leather organizer that has his name embossed in gold in the lower right corner, and a mug of hot maté, a beverage, he later explains, that he acquired a taste for as a Mormon missionary in Argentina.

A name tag is pinned to the lapel on his charcoal-gray sport coat. Above his name are the words "for County Judge."
Over the course of a 45-minute interview, Gill explained why he's running for a seat on the bench of the Humboldt County Superior Court, and he spoke on a range of topics, including his passion for social justice, his work for the California Teachers Association and his belief that the American legal system is "rigged for the people in power."
While Gill was raised in a Mormon family (on the beach in San Diego) and remains a member of the church to this day, he sometimes disagrees with the religion's stances on social and political issues, as does his extended family.
"A good example would be the conversation I had with my father during the [former California Governor Arnold] Schwarzenegger era," he says. "There was a ballot measure to provide universal health care in California. My father had been a clergyman and a bishop, and he said, 'God measures us by how we take care of the least capable among us.' And he told my whole family, 'You should all vote for this.'"
His upbringing shaped what he calls a liberal Christian point of view. Both parents were union members, and he credits his father with instilling a "compassion and emotional sensitivity" that eventually sparked an interest in civil rights law. After graduating from UCLA and the University of San Diego School of Law, Gill was hired by a firm that specialized in the Americans with Disabilities Act.
"After about a year I put up my own shingle and started practicing," Gill says. His career has been based in civil courts with employment discrimination cases leading to work with labor unions. In 2008 Gill decided to pursue a second law degree in labor law. He would eventually earn that degree from the University of Melbourne in Australia, traveling there by plane to attend classes for 10 days at a stretch. (It was cheaper and warmer than Cornell Law School, Gill explains.) But first he and his wife wanted to find a new place to live, and she suggested driving north.
"We found our community in Crescent City," Gill says.
He soon landed a job with the Service Employees International Union Local 1021 representing employees of Del Norte County. While representing mental health workers, Gill grew frustrated with the lack of adequate funding for programs helping people with dual diagnoses, meaning they have both a mood disorder and substance abuse issues. Gill spoke with his state senator, Sam Aanestad, who was in negotiations with the then-Senate Majority Leader Darrell Steinberg.
"And he just didn't care," Gill says of Aanestad. "He was completely unsympathetic. He was termed out, but I was so angry about it that I decided to run for state senate."
Gill was the 2010 Democratic nominee for California Senate District 4, which at the time extended from the northwest corner of the state down into the Central Valley, encompassing Redding, Chico and Yuba City — Republican territory.
"It was tilting at windmills, and I knew it at the time," Gill says. His adversary, the cowboy-hat-wearing, Trump-hand-shaking conservative Doug La Malfa, wasn't imaginary, though he did prove formidable, handily defeating Gill in the general election by a margin of more than two-to-one. But Gill says he learned a lot about how elections work and, while traveling around the district, had frank conversations with people in communities he'd never visited before.
Gill worked for the union full time the following year, landing a job as a field director supervising workers from Marin County all the way north to the state line. In that role he represented court workers in Sonoma, Mendocino and Marin counties as well as employees in the Del Norte County District Attorney's office. The job familiarized Gill with the court administrative office.
"I think I'm more aware than your typical judge or judicial candidate of how court operations work," he said. And if he wins the election Gill says he'll use whatever influence he has from the bench to advocate for services such as the homeless outreach program, drug diversion and addiction court. programs he believes are effective in reducing petty crime.
Gill and his family moved to Humboldt County in 2013 after he landed his current job representing employees with the California Teachers Association.
"We're really happy to be here," Gill says. "I love the quirky restaurants and beaches. Moonstone Beach is like the prettiest thing I've ever seen."
Asked why he's running for a judgeship, Gill says, "It seems like an area where you can make a difference in the community." When Arcata native Gregory Elvine-Kreis, with whom Gill had attended law school and worked at California Indian Legal Services, was appointed to the bench by Gov. Jerry Brown last year, "I thought now it's really time. I should do this," Gill recalls.
His experience trying cases in court is somewhat limited. "I have a couple of jury trials and I've had a couple of bench trials," he says. But with his civil court work, which has included arbitrations, mediations and collective bargaining, Gill feels he's well situated to step in and help with the caseload at the Humboldt County Superior Court.
"Most of the judges on our bench have a criminal background, and I've heard from various lawyers that having a civil background on the bench here would be helpful," Gill says.
Asked whether he would bring a judicial philosophy to the position, Gill says his San Diego professors believed in incrementalism, which emphasizes rulings based on established case law rather than broad social ideals, but he came to a different perspective.
"I've been somewhat disillusioned by my experience in the union movement because I believe that the legal system is rigged for the people in power," he says. "The rules are made by the people that already have power."
"That doesn't mean I'm going to nullify the law," he continues. What matters is ensuring that the law is fair, he says.
Would he be a so-called activist judge?
"Activist is in the eye of the beholder," Gill responds. "When people say 'activist judge' it really just means, 'They're activist in a way I don't like.' [The late Supreme Court] Justice [Antonin] Scalia was a pretty activist judge, in my opinion."
Gill says that as someone who comes from a religion with a history of persecution, he would be especially sensitive to litigants who also may feel persecuted. His campaign website mentions his work representing "people with disabilities, whistleblowers, people of color, small businesses, workers, teachers, and LGBTQ."
He also has some ideas about how court efficiency might be improved.
"I am less concerned with the needs of the profession than with the needs of the community, and having experience in courts all over the state I have perspectives on the way things are done," he says. "For example, Humboldt County has a tradition of half-day trials, which I think is actually a really big burden on jurors, and employers."
He believes improvements in the court's case management system could relieve some of the congestion, though he said he's not worried about the massive caseload that some say contributed to a public admonishment from the California Commission on Judicial Performance for the man Gill is running to replace, Judge Dale Reinholtsen.
"Well, when I worked for SEIU as a field director I was working 90-hour weeks, so I expect I can manage it," Gill says.
Asked whether his background in (primarily) labor and employment law has adequately prepared him to adjudicate cases in criminal court, Gill points out that it will be up to the presiding judge where he gets assigned. But he reiterated that his civil court background may be exactly what's needed.
"The three judges who were most recently appointed were all public defenders, so there's plenty of people in the courthouse who can handle criminal law," he says, adding, "and it's not that complicated."
A few moments later, though, he circles back:
"With that said, it is a very specialized area of law and there's a lot of things I don't know that I would have to learn, but I am confident that I can manage that."
He says he's worked with a wide variety of citizens in courts all over the state. "And the kind of experience I've gotten in that work has involved creative problem-solving and particularly negotiations… . in my civil work I've done motions, I've done appeals, I've done the kinds of reading and writing and thinking that you have to do to be successful as a judge."
Gill is running against Eureka attorney Lawrence Killoran, whose Outpost interview will be published soon. California's June primary election will be held on Tuesday, June 5.