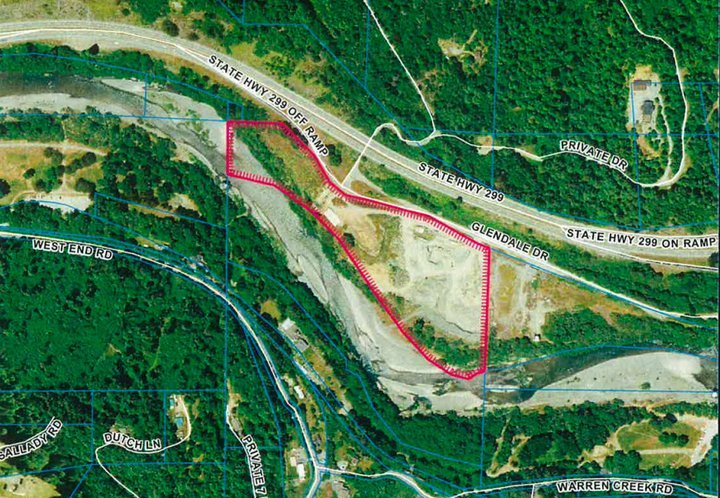 In a surprise announcement Wednesday morning, Fifth District Supervisor Ryan Sundberg tells the Outpost that Mercer-Fraser Co. has withdrawn plans for a controversial cannabis extraction facility along the banks of the Mad River, near Glendale, as well as a request to rezone the property heavy industrial.
Humboldt County Planning and Building Director John Ford confirms that the county received a letter from Mercer-Fraser's attorney Tuesday night withdrawing both the proposed plans for a cannabis extraction facility and the request to have the property rezoned from agricultural to heavy industrial.
The project, which was narrowly approved by the Humboldt County Planning Commission earlier this year, has drawn a great deal of public scrutiny as well as an official appeal from the Humboldt Bay Municipal Water District (HBMWD), whose leadership has argued that heavy industrial use on the property threatens to "adversely affect the domestic drinking water supply for nearly two thirds of the population of Humboldt County."
Reached by phone this morning, HBMWD General Manager John Friedenbach said he had not heard of Mercer-Fraser's plans to abandon the project.
"I'm surprised," he said before quickly adding, "I reserve final judgment pending seeing that in writing." Friedenbach added that if it proves to be true, "obviously the district is very glad to hear that."
Sundberg recently has been alluding to an agreement that would please everybody, though earlier this week Mercer-Fraser President Justin Zabel said he couldn't discuss what was in the works.
"We're working on a good solution right now," Zabel said on Monday. "So I guess stay tuned."
He went on to say that he felt the project has been largely misunderstood, especially the request to rezone the property heavy industrial, which he said was a natural extension of changes made to the the underlying land use designation during the county's general plan update.
Mercer-Fraser has operated a gravel yard and concrete batch plant on the premises for years.
"People talk about how the public should know what's going on; this general plan [update] was going on for 10 years," Zabel said, noting that Mercer-Fraser and other property owners in the Glendale region filed rezone requests as part of the open public process.
Zabel added that the company had no plans to operate the proposed cannabis extraction facility itself; rather, it was building it to lease. The proposal proved controversial largely because of plans to use volatile solvents, including butane, propane and carbon dioxide, in the extraction process.
HBMWD staff said heavy industrial activity near their Ranney Collectors (pump houses) threatened to contaminate the drinking water for up to two-thirds of the population of Humboldt County. These pump houses draw water up from the aquifer through the sands and gravel of the riverbed, providing filtered drinking water to residents of Eureka, Arcata, McKinleyville, Blue Lake, Manila and other communities in the north bay region.
Mercer-Fraser's property sits within the Mad River's 100-year flood zone, though Zabel said the company had agreed to build the cannabis extraction facility two feet above that designated elevation and had gone above and beyond state regulations in designing a septic disposal system.
"I am very happy to have this issue come to a successful conclusion," Sundberg said. "It took a little more time because Mercer-Fraser wanted to look into withdrawing both the permit and the rezone. I want to thank them for working with me through the issues and their responsiveness to the community."
# # #
PREVIOUSLY