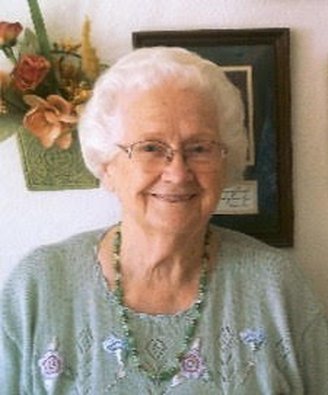 Ruth Davis, of Hydesville, passed through the gates of heaven on April 12, 2018, at the age of 96. Ruth was born December 22, 1921, in Edgerton, Minn. to Samuel and Jenny Kreun, the eighth child of ten. She grew up on the family farm, living in a large two-story house her father built from a Sears and Roebuck kit. When the depression hit, her family lost the farm and moved into town, enduring all the shortages those times incurred. In her late teens she moved to Pipestone, Minn., and was a food tabulator clerk for the Forum Cafeteria. It was at that time that she met a handsome young man from Leggett, Hobart Davis, who was in an Army engineering school, preparing to be shipped off to the European theater of WWII. When he shipped out, she thought she'd never see him again.

Ruth and two friends traveled out to Los Angeles to find jobs. She was working as a secretary there when she heard Hobart was in a military hospital just down the road. They rekindled their romance and he took her up to San Francisco to be married in his aunt's house. The newlyweds settled into a tiny cabin in Leggett Valley and started their family. In the next six years they had five children; Donna, Kris, Terry, and twin girls, Sandra and Susan. Five years later, their younger son, Randy, was born, rounding out the family to eight. By this time they lived in Eureka.
In 1961, Hobart (Bert) and Ruth bought an old Victorian-style farmhouse and in Hydesville and began a busy and fulfilling life on the farm.
Ruth became very active in the local 4-H club and was the Community Leader for 17 years, as all six of her children had various projects to round out their education. When her youngest child entered high school, she started working at Hydesville Elementary as their librarian. She had a great passion for teaching little ones the joy of reading.
But her greatest passion in life was serving Jesus, by teaching Sunday School at Hydesville Church for many years. She loved producing Christmas plays with the Sunday School children. She also taught numerous Ladies Bible Studies and found great joy in sharing her faith in Christ. Later in life she was very active in organizing monthly Senior Luncheons.
Having six children inevitably led to her having many grandchildren and great grandchildren to love and spoil, the youngest of which are twin boys born just this week.
After Ruth and Bert retired, they traveled all around the US in their travel trailer, but they always came back to Hydesville. They were married for 61 years until Bert passed away. Ruth continued to live on the farm until in 2011 she moved up to Roseburg, to be cared for by her daughter Sandra as Alzheimer's slowly took away all her precious memories and way of life. She now lives in heaven with a fully restored mind and body, being reunited with her husband and her daughter, Susan, who preceded her.
She is survived by her children, Donna and Barry Neel of Long Beach, Kristine and Robert Dietz of Hayden, Ida., Terry and Janie Davis of Hydesville, Sandra and Ronald Gundlach of Roseburg, Ore., and Randy and Crystal of Thaxton, Va. Grandchildren who grew up locally include Pamela and Brent Gundlach and Sarah and Bryan Davis.
A memorial service is being planned for Saturday afternoon, April 21, 3 p.m., at the Hydesville Church. She will be interred at the IOOF Cemetery in Hydesville.
###
The obituary above was submitted on behalf of Ruth Davis's family. The Lost Coast Outpost runs obituaries of Humboldt County residents at no charge. See guidelines here.