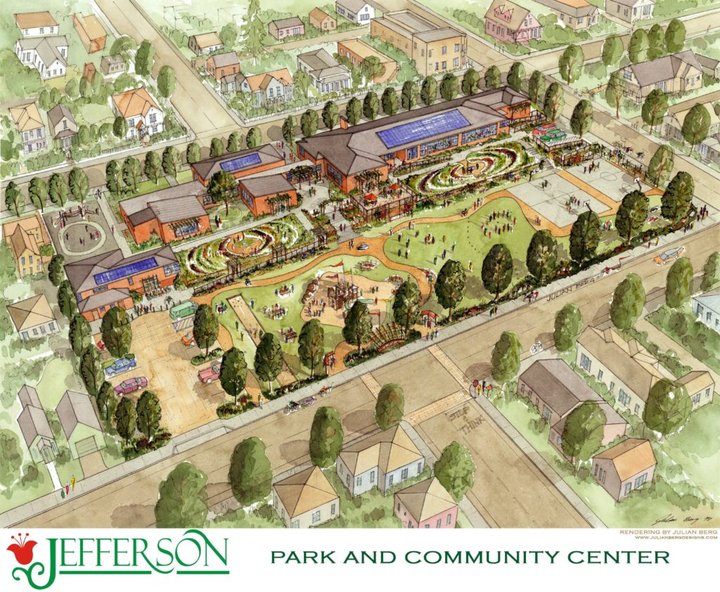 They're having a big, giant party at the Jefferson Center this Friday afternoon and evening, with music, snacks and some very special guests. The occasion? It's what Jeffersonians call the completion of "phase one" of the grand project to breathe new life into Eureka's long-troubled West Side neighborhood — the official completion of the Jefferson Center project.
Westsider Heidi Benzonelli tells the Outpost that the Jefferson Center — which housed a primary school, once upon a time — now contains a performance venue, an infant-toddler center, a computer lab, a community resource library, native plant gardens, a playground, and bocce and basketball courts. A number of classes and programs operate out of the center, including Early Head Start and Second Chance, an employment-readiness program.
Work will continue on the site, probably forever, but for now, they're calling the project more or less complete. It's been a long, tough road for the group of neighbors who got together years ago to save the school site for the community — you can read Ryan Burns' story about the Jefferson Project's early days and struggles here — but organizers are now officially declaring victory.
"Phase one"? Benzonelli says that the ultimate goal of neighbors is to freshen up the neighborhood at large. "We're really looking at a whole community improvement project that is spreading like wildfire from the site, now," she said.
From the Westside Community Improvement Association:
Together, we have reached a great milestone - the completion of Phase 1 of our Westside Community revitalization project - the Jefferson Community Center and Park. Thank you to all for your contributions of time, encouragement, work, and financial support. This is not just a job well done, Jefferson is a shining example of what can be done when a community pulls together.


Thanks to everyone's hard work and in recognition of our accomplishments, California State Senator Mike McGuire and key leaders from our chief funding partner, the California Department of Parks and Recreation and its Office of Grants and Local Services, will be joining us at a special event to proudly showcase all that we have done together, as community.

Please join Westside Community Improvement Association and Redwood Community Action Agency.


This is your invitation to celebrate and hear words of thanks.


Come enjoy some food, music and fun. (no gloves required)!

WHERE: Jefferson Community Center 1000 B Street, Eureka, CA
WHEN: Friday, April 27th (3 - 6pm) walking tour begins at 3pm

Please use the new 'A' Street Entrance.

I am personally very proud of what we have accomplished and grateful to get to be part of this tremendous community effort. I sincerely hope to see all of you at this special day of recognition.