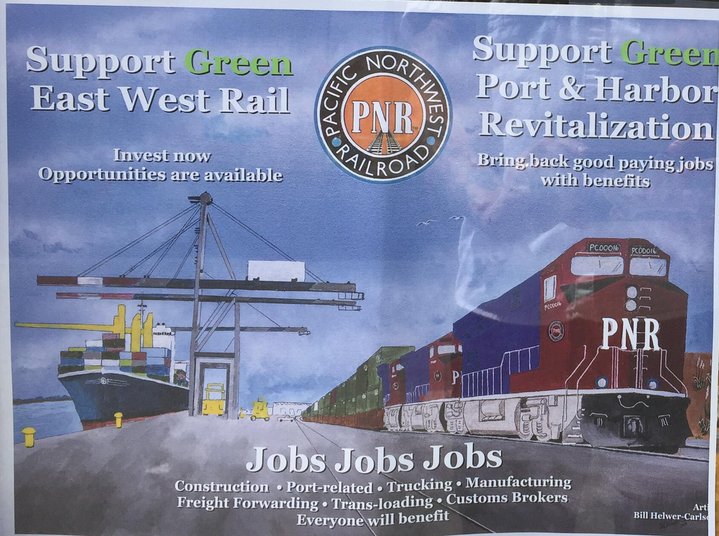 Humboldt County's railroad to the south has been dead for over 20 years, and people are finally starting to give up on the idea that it is ever coming back. But Humboldt County's train evangelists — those folk who have long argued that the only possible way to economic vitality on the North Coast is via locomotive — aren't giving up the ghost yet.
Instead, they're out raising lots of money from friends and neighbors and betting on an Orange County financial firm's scheme to build a whole brand new railroad.
A newly formed limited liability company is recruiting local investors to pony up $10 million in seed capital to build a brand-new, 220-mile railroad from Humboldt Bay to the Central Valley, along with completely revamped harbor facilities at the Port of Humboldt.
The company, which is calling itself the "Humboldt Eastern Railroad," has as its "founding stockholders" a number of familiar faces in Humboldt County's train-boosting world – attorney William Bertain, onetime Harbor District candidate Nick Angeloff, Pete Oringer of the Humboldt Bay Harbor Working Group and others — according to documents handed out to potential investors in recent months and obtained by the Outpost.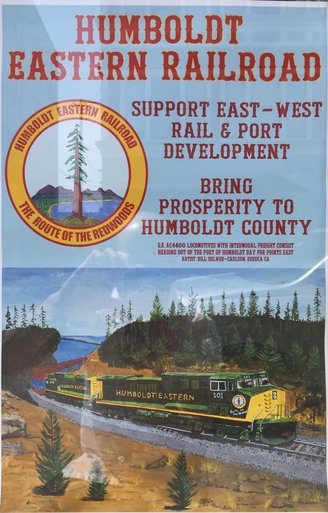 The documents state that Humboldt Eastern Railroad plans to work with another new limited liability company — the Pacific Northwest Railroad Corporation — to build this massive new shipping infrastructure. The first step, according to the process laid out to investors, is for locals to raise the targeted $10 million and transfer it to the Pacific Northwest Railroad Corporation, which is controlled by a Orange County financial firm called Pacific Charter Financial Services, in exchange for stock in that shell company.
According to the prospectus, the money would then be used to apply for permits to build the new railroad and Humboldt Bay docking facilities, which, according to a Pacific Charter estimate, would cost $10 billion in total to build.
It's all going to be done completely with private financing, backers say, and the local $10 million fundraising efforts represents a chance for Humboldt County residents to get in on the ground floor of an exciting and lucrative new business, by providing them a vehicle with which to buy shares in the Pacific Northwest Railroad Corporation.
However, they note that there are risks involved, and that prospective investors must sign statements that acknowledge their investment could be completely lost.
"Although we are very hopeful and optimistic that Pacific Northwest Railroad will become a reality, we must state loud and clear that this proposal is not a 'sure thing' or a 'slam dunk,'" a note in the Humboldt Eastern Railroad pitch reads. "Your money will be at risk, but if this project is successful, great good for Humboldt County will result."
The project, as envisioned by Pacific Charter Financial Services, would involve some four trains leaving Humboldt and four trains arriving at the Port of Humboldt each day, each train carrying some 200 shipping containers which would be loaded to and from company's three new, ultra-modern docks on Humboldt Bay. International shippers would choose Humboldt Bay, they say, because of overcongestion at other West Coast ports, and because Humboldt Bay is closer to Asia than other ports.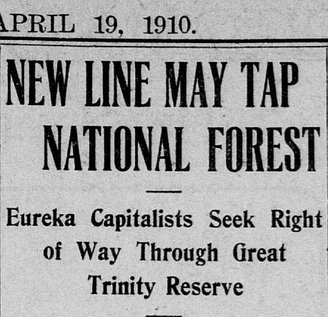 The whole operation, according to Pacific Charter's prospectus, would be as green and high-tech as possible. The train's locomotives, for instance, will be powered entirely by hydrogen, and would thereby emit only hydrogen fumes as exhaust. The railroad line, which will take only four years to build once permits are acquired, would follow the old route laid out by Humboldt County surveyor Jess Lentell over 100 years ago, which, these days, would cut through national forests and wilderness areas.
Pacific Charter Financial Services is owned by a Southern California man named Alan Painter, who would serve as chairman of the new railroad operation. The company's website shows that it is involved in a number of unusual businesses, including Double Helix Water — a water-based drink that bills itself as "the new phase of water," with a bewildering variety of health benefits.
Painter, according to Humboldt Eastern Railroad documents, was brought on by his friend Ken Davlin, a local engineer and the president of Oscar Larson & Associates. Davlin and his company would also be involved in the management of the Pacific Northwest Railroad Corporation — the ultimate recipient of the $10 million being raised locally — and in the design of the railroad and associated facilities.
The whole plan was briefly outlined this afternoon by Humboldt Eastern founding stockholder Pete Oringer at a meeting of the Humboldt Bay Harbor Working Group, a monthly lunch club at the Samoa Cookhouse that talks about port and railroad-related matters. Oringer laid out the East-West plan, took some questions and invited people whose curiosity was piqued to stick around and talk.
"We're going to wrap this up as a meeting, but feel free to stay around and jawbone," Oringer said at the end of his talk. "This is exciting stuff."