Casey Floyd Felt has turned down a 15-year plea bargain with the District Attorney's Office, choosing to go to trial and risk a sentence of life.

"My understanding is that he was not interested," Deputy District Attorney Josh Rosenfeld told Judge Joyce Heinrichs at a trial-confirmation hearing this morning. Last week Rosenfeld gave Felt, accused of shooting his girlfriend in January 2017, until today to consider the prosecution's offer to plead guilty to assaulting the woman with a firearm and causing great bodily injury. He would be sentenced to 15 years in state prison.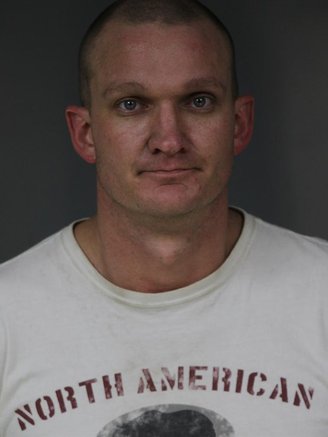 Instead, defense attorney Michael Acosta confirmed Felt's Aug. 20 trial date and said he had conveyed a counter-offer to the district attorney. Acosta said he disputes Felt's level of involvement in the shooting.
But Rosenfeld responded that Acosta "floated an offer somewhere around 10 (years). That's not acceptable to the People."
The prosecutor said he wanted to make it clear to Felt the consequences of being convicted at trial. He could face up to life behind bars, Rosenfeld said. And even if convicted of the least-serious charges, Felt is looking at a minimum of more than 27 years.
Felt's girlfriend told sheriff's deputies she was in her parked vehicle in a turnout on Avenue of the Giants when two masked men approached and began shooting at her vehicle.
"The victim exited her vehicle and the suspects demanded money and drugs, neither of which the victim produced," according to a Sheriff's Department news release at the time. "The suspects then took her cellphone, shot the victim in the leg and fled in an unknown vehicle in an unknown direction."
The victim, 24-year-old Christine Elizabeth Turkovich, reportedly was picked up by a person passing by and taken to Redwood Memorial Hospital in Fortuna.
Five days later sheriff's investigators served a search warrant at a residence on Felt Road in Hydesville, detaining two people but arresting only Felt.
According to Humboldt County Correctional Facility's jail report, Felt is charged with two counts of firing into an occupied vehicle, two counts of personal use of a firearm during the commission of a felony, the special allegation of causing great bodily injury, personally using a firearm to injure someone, burglary and being a felon in possession of a firearm.
Felt is being held on $1 million bail.
###
PREVIOUSLY: