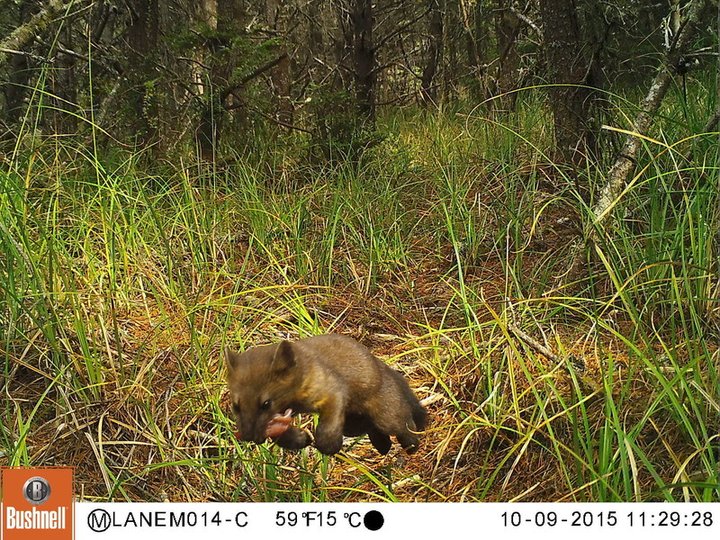 PREVIOUSLY:

###
Press release from the Environmental Protection Information Center:
The California Fish and Game Commission will make a final decision on whether to list the Humboldt marten at their August 23, 2018 meeting in Fortuna, California. The California Department of Fish and Wildlife is recommending that the Humboldt marten, also known as the coastal marten, be listed as an endangered species under the California Endangered Species Act. This recommendation is in response to a listing petition filed in 2015 by the Environmental Protection Information Center (EPIC) and the Center for Biological Diversity.

The Humboldt marten was once thought to be extinct. In 1996, researchers rediscovered the species in Six Rivers National Forest. Today, there are fewer than 200 individuals left in California and less than 400 in the entire species. Since their rediscovery, there has been an alarming dip in population. A California Department and Fish and Wildlife (CDFW) status review found that "over the last 25 years Humboldt martens have only been detected in Del Norte, northern Humboldt, and extreme western Siskiyou counties; suggesting a range reduction greater than 93 percent." As described by CWFW, the marten is under imminent threat of extinction from a combination of threats, all of which are magnified by the marten's extremely low population numbers.

Historical records of Humboldt marten distribution show that the subspecies lived almost exclusively in old-growth forests from present-day Del Norte to Sonoma counties. They thrive in conifer or mixed conifer-hardwood forests and eat small rodents, such as mice and voles. Today, the last remaining Humboldt marten populations have been detected in National Forest lands near tributaries of the Middle Fork of the Smith River and private timberland near Redwood and Six Rivers National Forest. Protections for this species may help create habitat linkages between private and National Forest lands and support future efforts in old-growth forest restoration.

We urge our community to attend this meeting in support of listing the Humboldt marten as endangered under the California Endangered Species Act. We will meet outside the Fortuna River Lodge at 5pm. EPIC will be hosting a Summer Potluck at the EPIC offices in Arcata Wednesday, August 22nd in support of the Humboldt marten listing. For more information call (707) 822-7711.
###
Note: The agenda for this Fish & Game Commission meeting, which will be held on both Wednesday and Thursday, can be found here. The meeting will be live-streamed at http://www.fgc.ca.gov/.