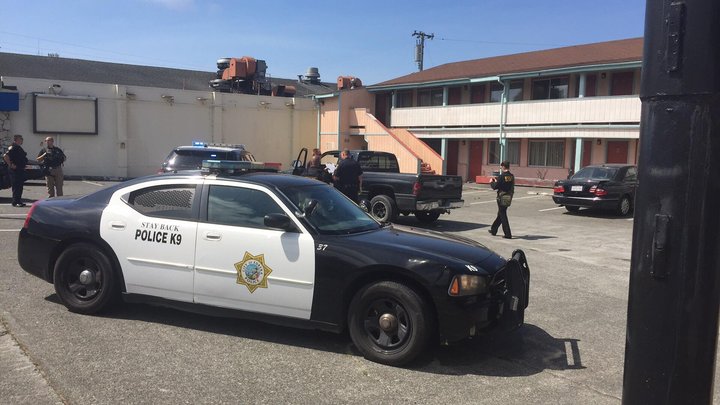 Downtown Eureka heads are turning in the direction of the Royal Inn Motel at the moment, where a large number of Eureka police officers have pulled over and detained a man who was driving a black Dodge pickup.
According to Sgt. Leonard LaFrance, who spoke with the Outpost's Ryan Burns at the scene, the vehicle and its driver are believed to be associated somehow with a "report of shots fired" call that came into the department a few minutes earlier, at around 1:50 p.m.
On Twitter, Eureka Police chief Steve Watson said that the department has confirmed that shots were, in fact, fired, and that the department is still investigating.
EPD is investigating a confirmed shots fired call originating near West Washington/Summer Streets. Caller reported a subject firing shots out of a black truck. The suspect vehicle was intercepted by EPD officers on 5th St. and a high risk stop conducted in a motel parking lot.

— Steve Watson (@SWatsonEPD) August 29, 2018
The suspect was quickly taken into custody safely. A rifle and expended shell casing was found in his vehicle. No injured victims have been located thus far but witnesses and possible victims are being interviewed now. pic.twitter.com/WapFp7YFft

— Steve Watson (@SWatsonEPD) August 29, 2018