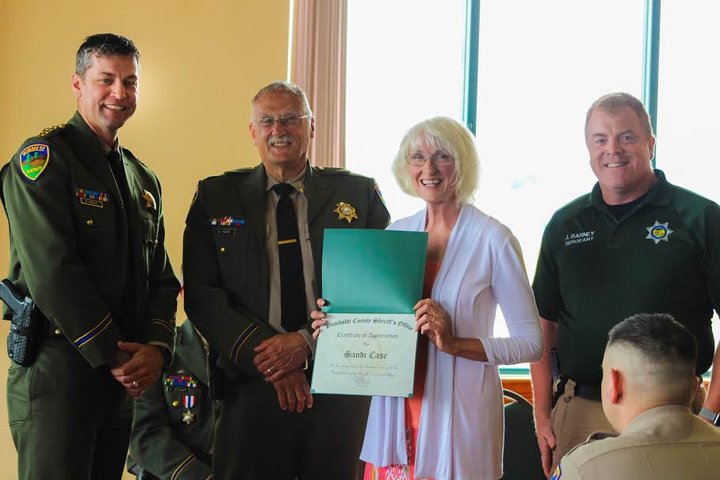 From the Humboldt County Sheriff's Office:
It isn't about death, it's really all about life at the Humboldt County Coroner's Office, according to Autopsy Assistant Coordinator Sandi Case. Case is a seven-year volunteer at the Coroner's Office and received a special recognition award Wednesday from the Humboldt County Sheriff's Office for her assistance to the county. Case oversees the Coroner's Office Autopsy Assistant Program, not only helping during autopsies herself, but also recruiting and scheduling autopsy assistant volunteers.

"The program is really incredible," Deputy Coroner Charles Van Buskirk said. "It provides assistance to the county at no cost, while at the same time providing an invaluable opportunity for our volunteers to learn and gain medical experience."

The Coroner's Office Autopsy Assistant Program began in 2009, allowing volunteers from the community to assist during the autopsy process. Since its inception, the program has trained more than 100 volunteers. While many of the program's volunteers are aspiring doctors completing pre-med programs or anthropology students, some, like Case, wanted to help the community in a way that many others would never consider.

"We humans are tightly meshed. When someone dies, a huge ripple effect runs through the community," Case said. "The Coroner's Office, like no other office I've ever experienced, understands the effect of death on the living and the importance of helping families through what is arguably the worst times of their lives."

Autopsy assistants are crucial to the autopsy process, assisting the forensic pathologist to prepare the autopsy room, remove and examine organs, complete bookkeeping of items examined and prepare the body for burial or cremation.

"It's amazing that this group of people will give their time selflessly and assist us in such an unusual way," Van Buskirk said. "Sandi, in particular, is a huge asset to this county. We're very thankful to have her."

While Case is completely comfortable working with the dead, she says it is a joy to also work with the Sheriff's Office's incredible team of deputy coroners.

"I have such respect for the men I work with. Without exception, they are amazing, kind men who have such integrity, such compassion," Case said. "They take such care to inform families in the kindest possible way. They never seem to lose track of the difficulty, the pain involved."

The Humboldt County Coroner's Office Volunteer Program, which includes the Autopsy Assistant Program, is always looking for new volunteers. To find out more about the program, call (707) 445-7242.