PREVIOUSLY:
###
Back in May the Humboldt County Department of Health and Human Services sounded the alarm over an explosion in the number of new HIV diagnoses in Humboldt County, and the trend has only continued.
Barely halfway through the year, Humboldt County has seen 11 new HIV cases diagnosed. For comparison's sake, the annual average over the previous five years was just three cases. With similar spikes in chlamydia, gonorrhea and especially syphilis, Humboldt County Health Officer Dr. Donald Baird called the STD outbreak "unprecedented."
It appears Humboldt County was particularly vulnerable to this outbreak. The Centers for Disease Control and Prevention says HIV spreads quickly in regions with high rates of poverty, drug overdose deaths and hepatitis C, all of which are the case here.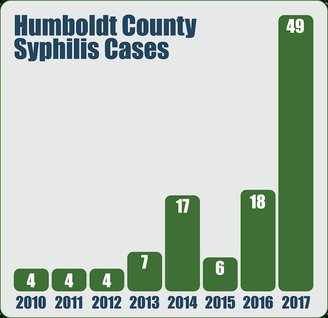 The incidence of HIV and syphilis may be interrelated, since syphilis weakens the immune system and makes HIV spread faster. Typically there's just a handful of syphilis cases in the county each year, but in May Baird said the rate had jumped up to as many as five cases in a single week.

Local health officials warned back in May that there may be close to three dozen other people in the community who've been exposed to HIV but didn't know they could be infected and contagious.
Amid this outbreak, local health care workers are trying to spread the word about precautionary measures to the people who are at risk.
Dr. Gail Hovorka, the director of HIV services at Open Door Community Health Centers, said they're offering Truvada, a pre-exposure prophylaxis (PrEP) medication that dramatically cuts down on the risk of contracting HIV.
"If they take it routinely every day it decreases the risk by more than 90 percent," Hovorka said. She added that you don't have to be a patient at Open Door to get the medicine.
PrEP is also available at Planned Parenthood, as is post-exposure prophylaxis (PEP), which can be taken up to 72 hours after exposure to the HIV virus. Gloria Martinez, chief of staff for Planned Parenthood of Northern California, said those medications are often covered by insurance, and for patients who don't have insurance Planned Parenthood can direct them to a medication assistance program that can provide them at no cost.
While IV drug use is a risk factor for contracting HIV, public health officials say none of the cases diagnosed this year were acquired that way. Instead they appear to be largely tied to unprotected sex arranged through hookup apps such as Grindr.
In another effort to halt the spread of these STDs, Hovorka said Open Door is trying to organize a big training for health care providers in the community, so private doctors' offices can help make PrEP more widely available.
"In some places like San Francisco PrEP is widely used and it has cut back on new cases dramatically," Hovorka said. "In Humboldt County not enough people are on PrEP because they're just unaware. We can help with that."
Open Door operates one of the most successful Ryan White programs in California, according to Communications Manager Erik Salholm. "We have about 200 patients in care with us and until the recent outbreak, our viral suppression rate was well above 90 percent," he said.
Meanwhile, the county is offering free consultations and HIV tests, which you can arrange by contacting the Public Health Clinic at 707-268-2108 or freehivtest@co.humboldt.ca.us.