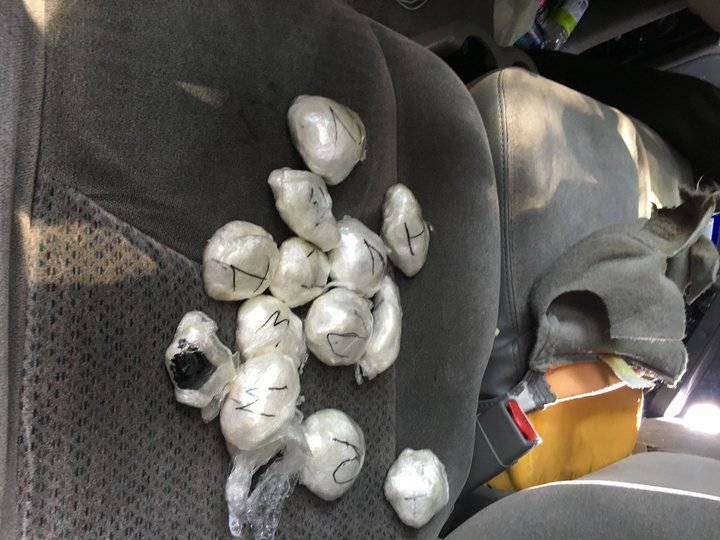 From the Humboldt County Sheriff's Office:
On August 28, 2018, at approximately 1:00 p.m. Humboldt County Drug Task Force Special Agents were conducting an investigation at a residence in the 5200 block of Cummings Road, Eureka. Agents previously received citizen complaints of suspected narcotics activity at this residence.

While agents were on scene a vehicle approached the residence and parked in the driveway. The driver, a 17 year old juvenile, was contacted and detained pending further investigation.

An investigator with the Humboldt County District Attorney's Office, along with his narcotic detection K9 partner, was requested and responded to the scene. The K9 alerted to the presence of narcotics inside the vehicle. Agents subsequently searched the vehicle and located a false compartment. Inside the false compartment agents located approximately 1.5 pounds of heroin packaged for sales.

The juvenile was placed under arrest and transported to Juvenile Hall. The juvenile was booked for possession of a controlled substance for sales, fabrication of a false compartment, and driving unlicensed. Agents believe the juvenile was employed by a drug trafficking organization to deliver narcotics. If any suspect(s) are identified, child endangerment charges will be sought.

Anyone with information related to this investigation or other narcotics related crimes are encouraged to call the Humboldt County Drug Task Force at 707-444-8095 or the Humboldt County Sheriff?s Office Tip Line at 707-268-2539.