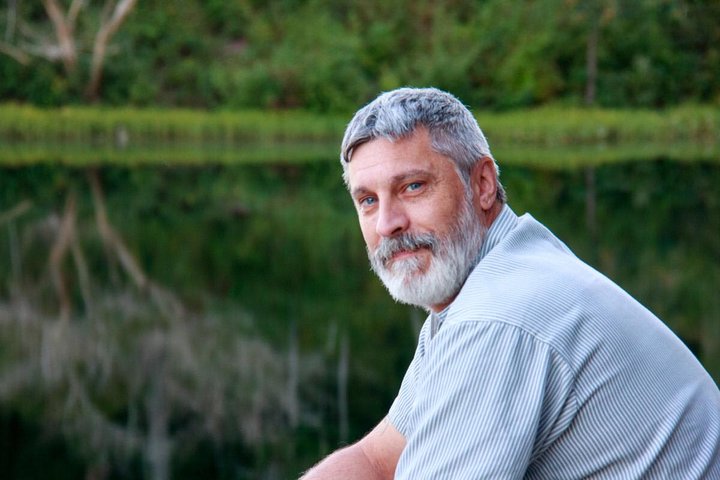 John Wesley Turney, also known as "JT," was born on May 12, 1970 in Garberville, Humboldt County, California to the parents of La Donn Harvey Turney and Frances Juaneta Turney at Garberville General Hospital, and grew up in Miranda. John left behind his sister, Angey Turney Holetz, and brothers Tobias Turney, John David "Dave" Turney, Jon Dow Turney and Nathaniel Turney.
As a boy John was all about, fearless action. He was all boy. He crawled fast, terrorizing the cats and dogs as he raced through the house in his walker. When John was a toddler, he escaped from his mom and crossed a street and a large open field covered in grasses way over his head and managed to get to his favorite person in the world, his Grandma, Ethel Carra Turney McCarn. John enjoyed bringing his aunt, Judy Turney, lizards, snakes and spiders clutched in his hands with blue eyes flashing with excitement. As a young man and adult John adored his aunt Judy as she was the mother in his life, and he loved her very much.
John's paternal grandparents were his most loved, respected and cherished people in his life. John was able to live with them for years after his parents' divorce and he was forever grateful for their examples of hard work, honesty, faith and unconditional love of family. Their home was always his safe place. The Turney family traditions always revolved around kids. Any holiday, birthday, anniversary, small or large accomplishment — all were equally exciting and worthy of a Turney gathering. These were filled with lots of food, dessert, laughter and probably a few games of pinochle. But mostly it was a gathering of love for each other. John's laughter, jokes and story telling was always part of that.
John had a "mini bike" by the time he started school and was rarely without a dirt bike and later a street bike to ride. Motorcycles were a passion of John's and he owned several Harley Davidsons. The last bike John owned he rode over a thousand miles back to California from Idaho.
As a young man John loved hunting, fishing, hiking exploring, and especially motorcycles. We never knew when he might add something he had hunted (and cooked) to dinner … maybe even frog legs. One of John's favorite places was the ocean — whether he was diving for abalone, or just picking agates to collect or soapstone for carving. John found great peace at the beach. John was a very talented, self-taught carver and I was fascinated by the patient artistry he demonstrated, taking a rough piece of soapstone and slowly turning it into a piece of art. John would bring home abalone, cure them and find many pearls inside that he made jewelry with.
John received his High School Diploma from Osprey High School, Southern Humboldt Unified School District on June 11, 1992. After high school John enlisted in the Marine Corps. John's love for his country and desire to fight for our freedom is something he never lost. In 1994, John began working at WinCo Foods. In 1995, John began working at Harper Ford Motors. In 1997, John began working at Davey Tree. John broke his back in 1999 — that was career-ending.
John met Robin Masters Edgar in 1994. At this time Robin already had a daughter, Marya Belle Edgar, who was three years old. John instantly fell in love with Marya and knew he wanted to married Robin. In 1995 John and Robin married and soon after had Taylor McCarn Turney, in 1996. John was an amazing man, husband and father. John was very loving and loyal to all his family and friends. After 17 years of marriage John and Robin divorced in 2012.
As a father, John, was reliable, trustworthy and protective. John always had his girls' back and best interest no matter what the issue. John cared so much about his children and wanted to do the best he knew how raising Taylor and Marya. John taught his daughters how to change oil, fix and ride their mini dirt bikes and go-carts, how to box, and martial arts. John always made sure his girls knew he loved them and that he would always be there for them.
In 2012, John became a grandfather to Maleak John Wilson by his daughter Marya. Grandpa John was overjoyed that he could share his love and passion of motorcycles with a little boy who was named after him. In 2016, John welcomed another grandson, Oliver Beau McCarn Suarez, by his daughter Taylor. John was very excited to have lived with Oliver for a short time. In 2017, John welcomed his first granddaughter, Duvarya Helen Wright, by Marya. John was so excited to be having a granddaughter as he felt he was meant to raise strong girls. John flew out to Oakland as soon as his granddaughter was born to meet her. John's greatest accomplishment was raising his strong girls and becoming a grandfather.
John would give you the shirt off his back if you needed it, or anything else for that matter. John would go out of his way to help you in any way shape or manner that was needed with a smile on his face. John loved his family most of all.
John will be sorely missed.
Family and friends are invited to join us. Memorial Service for John Wesley Turney will be held on September 15, 2018 at 1 p.m. at Harvest Church at 3131 Moore Ave., Eureka, 95501. John's daughters have set up a "GoFundMe" account for monetary contributions.
###
The obituary above was submitted on behalf of John Turney's family. The Lost Coast Outpost runs obituaries of Humboldt County residents at no charge. See guidelines here.