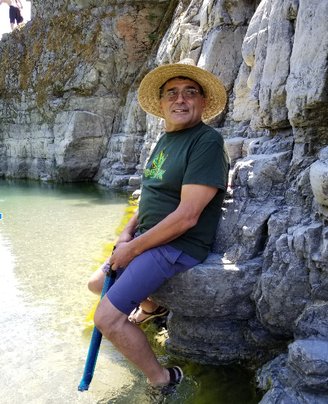 Robert Eugene Hunsucker Sr., born April 30, 1959, passed away December 10th, 2018 after a courageous battle with cancer. He never gave up his fighting spirit. He was preceded in death by his loving grandparents Stokes and Frances Jaynes, grandmother Geneva Hunsucker, parents Bruce and Patricia Hunsucker, godfather "Jimmy Skunk", and beloved brother Jack George Sr. He was a member of the Yurok Tribe and grew up down river, but more importantly he was an advocate for Native American rights and natural resources.

Bob was larger than life and had the heart to match. He was the strongest man we knew but was also the most loving. Throughout his life he cared for and mentored too many to count. He leaves behind his wife, Bonnie Hunsucker, son Robert Jr and his daughter Kallia, daughter Laurel and Husband Shekky and their sons Zacch and Max, nephew whom he loved as his son, Benjamin Hunsucker and his children Kila;gyah, Naschewen, and Benjamin Jr., and adopted son, Aaron Kane.
He loved all his siblings, in-laws, nieces and nephews, too many to name and we don't want to forget anyone. He loved you all. He had so many dear friends in many places, thank you for being there for him throughout his life and through his hard journey this last year.
He loved the river and loved being outdoors. Most recently, his favorite pastime was spending time with his grandchildren, who he nicknamed Marshmallow, Chickenwing and Babies. If he gave you a nickname, you had a special place in his heart.
Roasting and razzing people was his second-favorite pastime. If he was joking with you or at your expense, you were loved. Bob didn't judge anyone, and loved people no matter their situation. Generosity was one of his greatest strengths. He had been known to quite literally give the shirt off his back.
He loved to travel and drove all over the country, with each vehicle he drove earning its own name along the way. He loved football and always made time on Sunday to watch his Raiders. Bob was always the life of the party and brought fun and joy everywhere he went.
He also had a strong spiritual side. Bob was raised by his grandmother, Frances, to have a strong faith and gained a closer relationship with God through his journey. He lived his culture daily, not just during times of ceremony, and tried to pass that spirit to all he knew and loved. His strong spirit could be felt just by walking into a room, and his presence will not be forgotten. He seemed immortal to us as his niece said, "I can't imagine a world without Uncle Bob in it", and that's how we all feel.
Bob wished to give special thanks to his medical team: Dr. Terry Raymer, Dr. Eva Smith, PA, Tracy Langhurst, Dr. Dagim Taddesse, Dr. Thomas Rydz, Dr. Ellen Mahoney, and Dr. Russell Hardy, RN Joy Zamora-Huse, all the chemotherapy and cancer support services staff at St. Joe's. Thank you to the PRC and fiscal staff at K'ima:w. Thank you to Hospice House for giving him comfort in his final days. He wanted to especially thank all the people who supported his wife and children through this long journey.
Friends and Family are invited to a memorial reception at 2 p.m. at the Yurok tribal office in Weitchpec, on Thursday, December 13th. Come in love, light, and good humor.
###
The obituary above was submitted on behalf of Robert Hunsucker Sr.'s family. The Lost Coast Outpost runs obituaries of Humboldt County residents at no charge. See guidelines here.