Evelyn Elizabeth Moranda-Horn, eldest Wiyot tribal member, born March 13, 1915 in Ferndale, California, passed away peacefully in her sleep December 5, 2018 at age 103.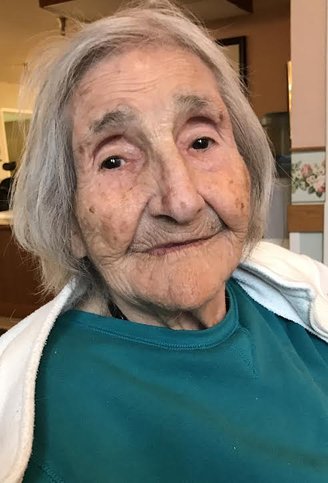 Evelyn was raised in Ferndale and attended Sherman Institute in Riverside, California where she was trained to be a nurse. She told the story that at her birth she was small enough that she slept in her dad's shoe box.
Evelyn loved to cook and share with many Rio Dell towns people. You would often see her walking to the post office with her cat trailing along, as a dog would. Or perhaps peeling potatoes at the restaurant across the street, her day job in her eighties. She loved embroidery, needle point, cards and games. Her memory of times past and relatives' lineages was unbelievable up into her 100s.
Evelyn broke her hip at 100 and was placed in Granada for rehabilitation and upon going home, requested to go back home to Granada. She was a social butterfly there. She attended all activities, loved bingo, Yahtzee, company and outing with her family. Her granddaughter Mona asked, "How do you feel grandma?" and she replied "With my hands," as she held them out and opened closed them.
Sadly, the death of Evelyn's fifth child and first-born Karen Kay Roberts was too much for her to bare and she simply died of a broken heart. She was a wonderful mother, friend and human being and words cannot express the loss the family is feeling.
Evelyn was preceded in death by her father, Frank Moranda and mother Rose McGuire Moranda, two brothers Ralph and Guy Raymond "Guyo" Moranda. She also was preceded in death by her five of her children, Linda Lee Owensby, Ardie Marsh, Dolores Miller, Beverly Haney and Karen Roberts. She is survived by her daughters Judy Owens, Crystal Shaffer, Ardith Huber and son, Ralph Horn. And too many grandchildren and great grandchildren to list. A special thanks to her granddaughters Leanne Allen and Mona Kemp for great care given, allowing her to live at home till she was 100 years old. And thank you to Granada for all the care and love they showed Evelyn.
Memorial Services will be held at Sunrise Cemetery, 3315 Newburg Road in Fortuna with officiating by Mark on Saturday, Dec. 22, 2018 at 11 a.m. A celebration of life/potluck will follow at Bear River Band of the Rohnerville Rancheria's Tish Non Community Center, 11 Bear Paws Way, Loleta.
###
The obituary above was submitted by Evelyn's loved ones. The Lost Coast Outpost runs obituaries of Humboldt County residents at no charge. See guidelines here.