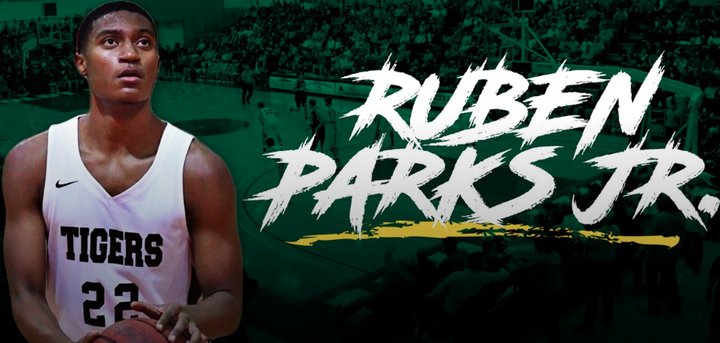 The leading scorer among all basketball players in the California Community Colleges system — the largest higher education system in the U.S. — has signed on to play for the Jacks next year.
Sporting his new Humboldt State University gear, Ruben Parks Jr. posed for a photo as he committed to play for Humboldt State University yesterday.
"Very excited to announce that I will be continuing my academic and basketball career at Humboldt State University!" Parks tweeted yesterday. "Education PAID for, still chasing my dreams. Truly blessed!"
Parks' high school highlight reel.
The 6-foot 6-inch guard is currently averaging 28.5 points per game with Reedley College, located 30 minutes west of Fresno, Calif. However, Parks has only played two games this season, and will have to keep up his excellent pace to remain the top scorer for the rest of the season.

Read more from the HSU Athletic's Department:

Humboldt State men's basketball Head Coach Steve Kinder continues to draw some of the state's top talent to the North Coast as Ruben Parks Jr., California's top junior college scorer, signed his letter of intent Sunday.

"We are extremely excited about signing California's current leading scorer in junior college basketball," said Kinder. "Ruben is obviously a tremendous scorer, a player who can get points on the board quickly, but he also has a huge presence defensively. His length and size make him an interchangeable player on both ends of the floor."

The Central Valley native dropped 28 and 29 points in Reedley College's first two games and is averaging a junior college best 28.5 points per game. Parks was tabbed a member of the Central Valley Conference's All-Freshman Team and was an All-Conference Honorable Mention selection after averaging 17.2 points per game in his first junior college season.

"Ruben has really developed as an all-around player under Reedley coach TJ Jennings," said Kinder. "Ruben is a tremendous young man, who comes from a nice family, and he will be majoring in business."

Parks, an Edison High School product, led the Tigers to a pair of Central Valley Championships in his three varsity seasons. The 6-6 forward capped his high school career with an MVP senior campaign, and he represented the South in 46th annual City/County All-Star basketball games in 2016.