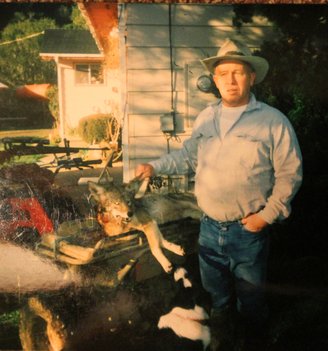 Arlin Dale Grandy was born August 23, 1940 in Scotia, and passed away December 1, 2018.

He is proceeded in death by his parents, Floyd and Dorothy Grandy; niece, Vicky Grandy; brother-in-law, Fred Anderson; and his partner of 33 years, Delores Shultz.
Arlin grew up in Ferndale. The first of two sons, born to Floyd and Dorothy. His younger years were spend helping his mom and dad at the gas station/fountain they owned at Alton. He also did at times go to work with his dad in the woods. Arlin enjoyed hunting and fishing whenever he had the chance. He attended Price Creek School in grade school, then Grizzly Bluff School, and later attending Ferndale High and graduating in 1958.
At 22, Arlin met Arlene Anderson. They were married in 1963 in Fortuna by a Justice of the Peace. Later that year, they celebrated the birth of their first son, David Neal Grandy. Soon after, in 1964, they were blessed with the birth of a beautiful (red-headed) daughter, Patricia Michelle Grandy. At that time, they were living in the summer cabin at the ranch when the 1964 flood hit. They then, moved up the road to live with Arlin's grandmother Nora while a new house was being built. Also, so Arlene would have help with the two small children while Arlin was away at work every day. After settling into their new home, in 1966, they were surprised with the birth of their second son, Dennis Dale Grandy.
Slowing adding to the ranch he had inherited from his grandparents years before, Arlin purchased two other pieces of property, making the ranch the 1,540 acres it is today.
Transitioning into family life at the ranch, Arlin and Arlene were strict with the kids and the multiple chores to be done. There were a number of animals to be fed and cared for as well as things to be done at the house. Arlin worked a lot. He started logging at the ranch and from there he did numerous local logging jobs while Arlene stayed at home with the children. Arlin did though, always make time for hunting — especially opening morning at the ranch with his brother Gary, and good friends, Don Katri and Bob Toler.
The couple parted around 1978. Arlin then met Delores Shultz in 1980-81. They then shared a home together at the ranch for 33 years until Delores passed away in 2006. Her daughter, Lauri, continued to stay on at the ranch to help out with chores at the house. Arlin loved his life at the ranch. It was his favorite place to be. It was sometimes, very difficult to even get him to go to town.
Arlin had a work ethic like no other. He also had one of the biggest hearts of about anyone you could ever meet. He'd give you the shirt right off his back if you needed it. That was just the kind of man he was.
Arlin is survived by his children: David (Dina Hall) Grandy of Fortuna; Patty (Steve Christopher) Newmaker of Fields Landing; and Dennis (Jennifer) Grandy of Ferndale. His grandchildren; Bobby and Brandon Newmaker, Jaylin and Haydin Grandy, and Mitchell and Grace Grandy. And so, so many close family friends.
Pallbearers will be: grandsons Bobby and Brandon Newmaker, Jaylin and Haydin Grandy, Mitchell Grandy and close family friends; Charley Manzi and Jose Argote.
A memorial will be held on Saturday, December 8, 2018 at 11 a.m. at Gobles Mortuary in Fortuna. Family viewing is Friday, December 7, 2018 from 12 to 2 p.m. and guest viewing from 2 to 7 p.m. A small gathering is planned to be held at Town Hall in Ferndale immediately following service.
###
The obituary above was submitted on behalf of Arlin Grandy's family. The Lost Coast Outpost runs obituaries of Humboldt County residents at no charge. See guidelines here.