For a man charged with murder and carjacking it was a small victory, but today Judge Kelly Neel ruled there was not enough evidence for Brandon James Mitchell to stand trial on a felony charge of possessing methamphetamine in the jail.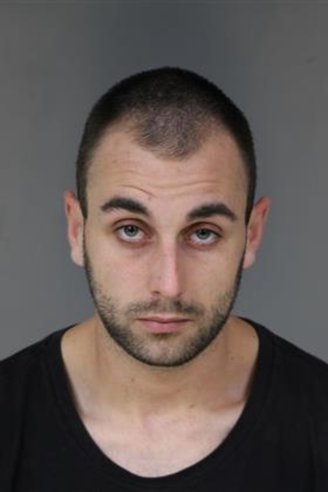 Mitchell, 23, was caught the night of Jan. 29 with what inmates call a "Happy Card," a piece of paper laced with drugs. The paper later tested positive for methamphetamine. But the question for Neel was how much meth qualifies as a "usable amount"? The law is vague: an amount that can be "manipulated." The paper was three-quarters-inch square, but the meth was not measured.
"There's not a sufficient basis to determine what is a usable amount of a controlled substance," Neel said at the end of a preliminary hearing this morning. She also said there was "little evidence" that Mitchell knew or should have known the paper contained drugs, "although there is an inference."
Deputy District Attorney Carolyn Schaffer's one witness was Correctional Officer Efrain Sanchez, who testified he was doing a routine cell check about 10:30 p.m. when he saw Mitchell stuffing something down the front of his sweatpants. Sanchez said he asked Mitchell what he had put in his pants and told him to shake both legs.
"A sandwich bag fell out of his sweatpants," Sanchez said. Mitchell tried to step on the bag, the officer said, but he retrieved it. One small piece of paper was found inside, so he sent it for testing.
"They (inmates) call them 'Happy Cards,'" Sanchez said. "Inmates would receive these cards and eat them."
On the night in question Mitchell's cellmate was Eric Lively, who was recently convicted of second-degree murder. No mention was made about what Lively was doing or not doing during the encounter.
Sanchez has worked at Humboldt County Correctional Facility for a little more than a year, and twice before he has caught inmates with "Happy Cards." One of the inmates immediately flushed his down the cell toilet and the other "crushed it in his hands and ate it," Sanchez recalled.
Under questioning by Deputy Conflict Counsel Marek Reavis, Sanchez acknowledged Mitchell had not attempted to get rid of his card.
"He was just standing there as I opened the door, kind of frozen, looking startled," he said.
After testimony concluded, Reavis argued there was no way to know whether the meth on the card was a usable amount. He noted that LSD can be ingested on a postage stamp, "but LSD doses are calculated in micrograms."
Although the drug charge has been dropped, Mitchell still faces life in prison if convicted of murdering Tyson Eduardo Claros during a carjacking in December 2014. His expected trial date will be continued. At an earlier hearing this morning before Judge Christopher Wilson, Reavis said he is still awaiting a report from an expert, and also the Conflict Counsel's Office is short of attorneys.
Mitchell originally had four co-defendants charged with murder, although he is the person accused of actually shooting the 20-year-old Claros. Of the other four, Hector Godoy-Standley, 22, was diagnosed as developmentally disabled and sent to a state hospital. His girlfriend Catherine Lynn Suzanne Fode, 20, will testify for the prosecution in exchange for pleading to voluntary manslaughter. And 19-year-old Tamara Nicole Thomson and her boyfriend Cesar Valenzuela-Campos, 24, remain charged with murder and carjacking and are also awaiting trial.
###
PREVIOUSLY: