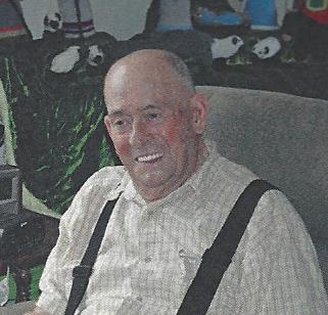 Charles Everett Dewberry, Sr. was born on August 2, 1924, in Dale, Johnson County, Arkansas, to Charles Felix Dewberry, and mother, Sarah Jane Marlow. Dad always told his family that his earliest childhood memories were of growing up near the Mulberry River with his brothers and sisters, where everyone knew him as "Cub". Those memories would come alive every time the family traveled to Arkansas and Dad would take us to visit all those favorite places.

Chuck, as his many friends called him, served in the U. S. Army from 1943 to 1946 in the Philippines and Okinawa. He was wounded and spent his last months in Army Hospitals. He was awarded the Purple Heart, Good Conduct Medal, American Campaign Medal, Asiatic-Pacific Campaign Medal with two Bronze Service Stars, WW II Victory Medal, and Philippine Liberation Ribbon with two Bronze Service Stars, the Expert Field Firing Badge, WW II Honorable Service Label Button, and Republic of the Philippines Presidential Unit Citation Badge. When he came home, he married his school sweetheart, Billie Lee Patrick, on February 4, 1946, in Ozone, Johnson County, Arkansas. They farmed for a short time on land gifted to him and his wife by his father. With a new baby to feed, they sold their land and moved west to find a better life, settling in Scotia, where he had a cousin. He worked for Pacific Lumber Company making pres-to-logs and worked part time at the Texaco Service Station. Two babies later, he had saved enough money to purchase land in Rio Dell. In 1953 he started building his home. Later two more babies were welcomed and the house had to be expanded. In 1956 he purchased his own service station and made many friends as he gave service above and beyond. Almost every child in Scotia and Rio Dell grew up being greeted with penny candy and Bazooka bubble gum as their parents pulled into the station. His customers became his life-long friends. In 1960 he added the AAA Towing Service franchise to his station. Many a morning his family would find guests sleeping on their sofa or living room floor because their car broke down and they had no place to go until the car was repaired.
Giving and giving back were something Dad did throughout his life. He was a member of the Rio Dell Lions Club for over 30 years and served as officers at the local and zone levels. He spearheaded a project to install seat belts in all cars for free. He served on the Little League board, Fortuna Union High School Board of Trustees, and many Rio Dell Chamber projects and activities promoting community activities and tourism. The Little League Parade and Wildwood Days was one of his favorite community activities. Many of the youth in Scotia and Rio Dell have fond memories of time spent with "Chuck" and were often visitors in his home. He loved to see his many friends and often called them on the phone to chat with them.
During the last few years, Dad has had numerous health issues that have kept him homebound but he would rarely say no to a trip in the car to town. He traveled often to San Francisco to the VA Hospital and Clinic for medical issues. He loved when his son, Robert, or daughter, Bea-Ann, would drive him. The stories he would tell! We learned so many things about his growing up, the war, and about his friends. When family couldn't drive him, he had his extended family and friends to share the drive. He enjoyed going on hunting trip and fishing trips even after he lost his eyesight. Less than a year ago, Dad made a trip to Alaska to fish with his son, Robert, grandson Brian, and great grandsons, Drew and Dustin. Dad made his last trip in the car to St Joseph's Hospital in Eureka, Humboldt County, California, on the evening of February 18, 2018, with heart issues, and passed on the morning of February 19, 2018, with his wife of 72 years, his family and very close friends by his side.
Dad was preceded in death by his parents, Charles and Sarah Dewberry; his brother, Ernest and his wife Jewell; his sister, Dorothy and her husband Adrian Young; his sister Lee and her husband Paul Gross; his sister Charlene; and his two sons, Everett and Gordon.
Dad is survived by his wife, Billie Lee; his sisters, Frankie Sorenson and Ellen Wilson; his daughter Bea-Ann and her husband Arnie Ziegler; his son Rick and his wife Lona; his son Robert; his grandchildren Paul Ziegler, Melynda Johnson, Renae Dewberry, Brian Dewberry, Lyn Chand, Clint Dewberry, Les Dewberry, Stacey Milich, Shane Wilson, Denton Dewberry, Shyla Ward, Sarah Reif, Rickey Dewberry, Amy Millett; his great grandchildren Gray Ziegler, Alec Ziegler, Bethanie Garcia, Hannah Johnson, Jonathan Johnson II, Daniel Johnson, Emily Dewberry, Christy Dewberry, Audrey Glaister, Alton Glaister, Drew Dewberry, Brandon Irby, Dustin Dewberry, Katie Dewberry, Emily Chand, Nathan Chand, Madison Dewberry, McKenzie Dewberry, Travis Milich, Jayden Wilson, Harmony Dewberry, Zoe Dewberry, Jed Dewberry, and Hailey Dewberry; and great great grandchildren Brooklyn Garcia, Harlym Garcia, and Anthony Garcia II; as well as numerous nieces and nephews.
###

The obituary above was submitted on behalf of Chuck Dewberry's family. The Lost Coast Outpost runs obituaries of Humboldt County residents at no charge. See guidelines here.