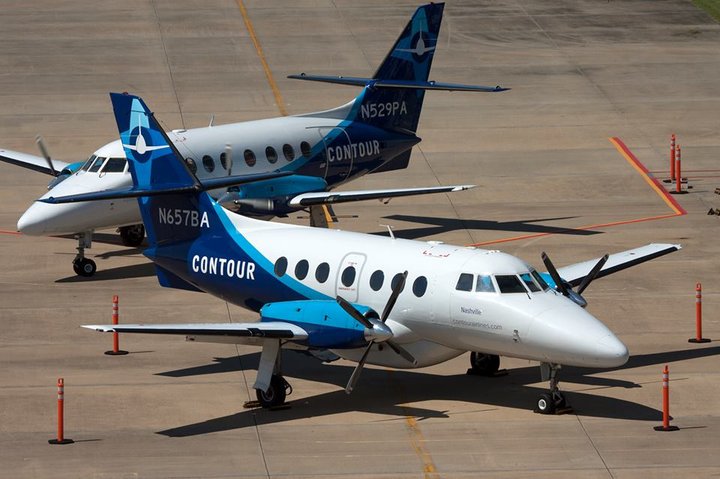 PREVIOUSLY: PenAir Pulling Out of Crescent City, Leaving Del Norte County Without Any Air Service
Here we go again! Having secured a grant for $3.3 million in annual assistance from the feds, Contour Airlines is just about ready to fly the North Coast skies! Familiarize yourself with their plans for operation via the press release below:
Contour Airlines today announced it will begin flying between Crescent City, CA and Oakland, CA on April 11th, 2018. To celebrate the launch of the route, Contour is offering an introductory fare of just $49 each way for tickets purchased by March 14th. The new flights represent the first ever jet airline service in Crescent City.

Contour will operate 30-seat Embraer ERJ-135 aircraft between the two cities featuring all leather seating with expanded legroom, complimentary snacks and beverages, and a free checked bag included with every fare. Regular fares on the route are expected to range from $69 to $179 each way inclusive of taxes.

"We are thrilled to connect Crescent City and the Bay Area with our low fares and reliable service," said Matt Chaifetz, CEO of Contour. "Aside from being the fastest and most economical way to travel between the Border Coast region and San Francisco, Oakland International Airport is the least congested and most economical airport in the Bay Area for those looking to connect onward. This new route offers unbeatable convenience for both business and leisure travelers alike."

Flights between Crescent City and Oakland will operate on the following schedule:

CEC to OAK: departing 7:00 a.m.; arriving 8:20 a.m. Monday-Friday
CEC to OAK: departing 8:00 a.m.; arriving 9:20 a.m. Saturday
CEC to OAK: departing 1:00 p.m.; arriving 2:20 p.m. Sunday
OAK to CEC: departing 5:45 p.m.; arriving 7:10 p.m. Daily

For additional information, visit www.contourairlines.com. For customer inquiries or travel assistance, call 1- 888-33-CONTOUR (1-888-332-6686).

About Contour: Founded in 1982, Contour Aviation has since grown to become one of the largest Part 135 operators in the United States. The company is a diverse aviation services provider that includes scheduled airline service, Part 135/91 aircraft management and charter, three Fixed‐Base Operations located in the State of Tennessee, a FAR Part 145 certified repair facility, and FAR 141 pilot and maintenance training. Contour operates a fleet of approximately 30 aircraft ranging in size from the Beechcraft King Air family to Bombardier and Embraer regional jets.