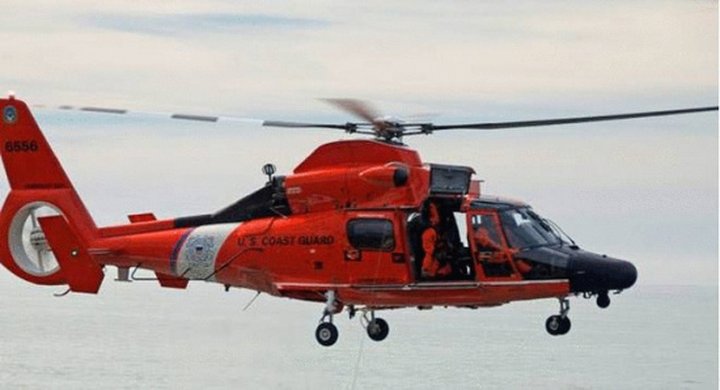 UPDATE: 6:30 p.m.
U.S. Coast Guard press release:
MCKINLEYVILLE, Calif. — The Coast Guard suspended its search Sunday for a Dungeness crab fisherman who fell overboard from the 47-foot commercial fishing vessel Chief Joseph approximately eight miles west of the South Spit in Humboldt Bay.

The suspension comes after Coast Guard crews from Station Humboldt Bay, Air Station Humboldt Bay and Air Station Sacramento conducted an 11-hour search that covered almost 700 square miles.

"It is with a heavy heart the Coast Guard makes the decision to suspend a search-and-rescue case," said Capt. Greg Fuller, the Sector Humboldt Bay commander. "We extend our deepest condolences to this man's loved ones and the entire fishing community."

Two crewmembers aboard the Chief Joseph reportedly fell overboard while attending to crab pots around1:10 a.m. The vessel captain was able to pull one person back aboard but could not see the other fisherman. The man who was retrieved had no reported injuries.

An MH-65 Dolphin helicopter crew from Air Station Humboldt Bay was first on scene at 1:50 a.m., followed by a 47-foot Motor Lifeboat crew from Station Humboldt Bay. A C-27 Spartan fixed-wing aircraft crew from Air Station Sacramento arrived an hour later, and the crews searched the area continuously until the case was suspended at approximately 1:15 p.m.

The on-scene weather at the beginning of the search consisted of 53-degree air and 52-degree water temperatures.
###
Two crew members on the commercial fishing boat "Chief Joseph" were sent overboard while tending crab pots eight miles west of the South Spit around 1 a.m. today.

Operations Specialist Sunderman of the U.S. Coast Guard Sector Humboldt Bay told the Outpost this afternoon that the remaining crew member on the ship was able to rescue on of the distressed fishermen, but another is still missing.
"One person was retrieved, but the sight of the other person in the water was lost," Sunderman said. "We activated the search and rescue alarm and we got a helicopter launched, they were on scene by 1:50 a.m."
A motor lifeboat and a fixed-winged aircraft were also deployed in the area in hopes of locating the missing fisherman, but the search was called off at 1 p.m.
Today's rescue efforts are not related to yesterday's Coast Guard rescue involving a commercial fishing ship taking on water eight miles south of the jetties.
We will update when we have more information.