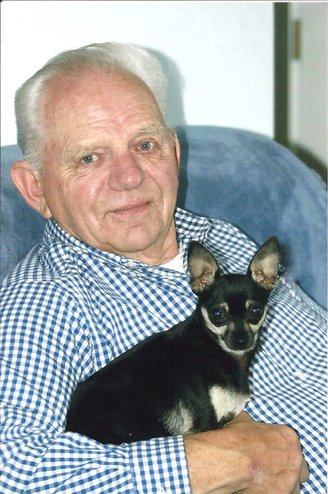 Arthur "Butch" Gordon Brown was born on August 15th, 1946 to Arthur and Rebecca Brown in Morton, Washington. Butch married Verdalyn Hillman on December 22, 1962 and he was proud to have recently celebrated 55 years with his bride.

Together, Butch and Verdalyn raised two boys, Vernon and Artie, in Eureka. Weekends were usually spent with extended family on their property in Redwood Creek, where the boys learned to swim and appreciate the fun of having a large family. Butch was very involved in his boys' lives and spent many years coaching Little League and Babe Ruth Baseball teams. He loved watching Vernon and Artie play football and baseball over the years. He was proud to restart his coaching career for his grandson Tommy. Butch helped Vernon coach Tommy from Redwood Empire Little League through his junior varsity years at St Bernard's Academy. When Tommy was on the varsity team, Grandpa Butch could be found in the stands (black coffee in hand) or pacing!
Besides being with his family, Butch's hobbies included gardening and spending time with his animals. His dog, Lacey, was "the love of his life" and he was a true-blue, lifelong fan of the Dodgers and the 49ers. His grandchildren were his pride and joy. He could always be found at one of their school or many sporting events. Over the years, Grandpa Butch attended more football, baseball, basketball, and volleyball games for St. Bernard's Academy than we can count. He always had a water for the kids and a cup of black coffee in his hand. Grandpa Butch had been looking forward to Tommy's graduation from UC Santa Cruz this June, and we know that he'll be with us is spirit.
He was also extremely proud of Betsy starting Chico State with her goal of becoming a nurse practitioner. He loved hearing about all her college adventures and being a typical grandfather, demanded good grades first! We are happy that we were able to tell Grandpa that Betsy was accepted into the Alpha Phi sorority, and that she earned the grades he expected!
Butch worked at Arcata Redwood for 40 years. After his retirement, he had a second career as a van driver for The Food Bank for 10 years. He enjoyed driving around to all the vendors to pick up surplus food to be distributed to those in need.
Butch is survived by his wife, Verdalyn Brown; his son and daughter-in law, Vernon and Liz Brown; and his grandchildren, Tommy and Betsy Brown. He was the precious brother of Ginnie Lawson, who will always cherish her memories of raising her baby brother. She was always there for him when needed. He is also survived by many special nieces and nephews and they will all have a special memory of their Uncle Butch. Two brothers and a sister also survive him.
Butch is predeceased by his parents and his beloved son, Arthur Gordon Brown, Jr (May 2017). He is also preceded in death by his siblings: Ted Brown, Jackie Colegrove, Billie Brown and Ruthie Moore.
Services will be held at Sanders Funeral Home (1835 E Street, Eureka) on Friday, February 9th, 2018 at 1pm, followed by a graveside burial at Sunset Memorial Park (3975 Broadway, Eureka). There will be a reception at The Wharfinger Building (1 Marina Way, Eureka) immediately following burial. This will be the time to gather and enjoy all the fun memories of Grandpa Butch and have a cup of black coffee in his memory.
Pallbearers will be: Lane Stapp, Ryder Stapp, Hunter Stapp, Doug Brown Jr, Wyatt Meng, Mark Meng, Tracy Roderick and Craig Vizenor. Honorary Pallbearers will be: Thomas Brown, Darrel Evenson, Al Roderick, and Wiley Stapp.
Memorial Contributions may be made to: St. Bernards Academy Athletics, 221 Dollison Street, Eureka, California 95501
###
The obituary above was submitted on behalf of Butch Brown's family. The Lost Coast Outpost runs obituaries of Humboldt County residents at no charge. See guidelines here.