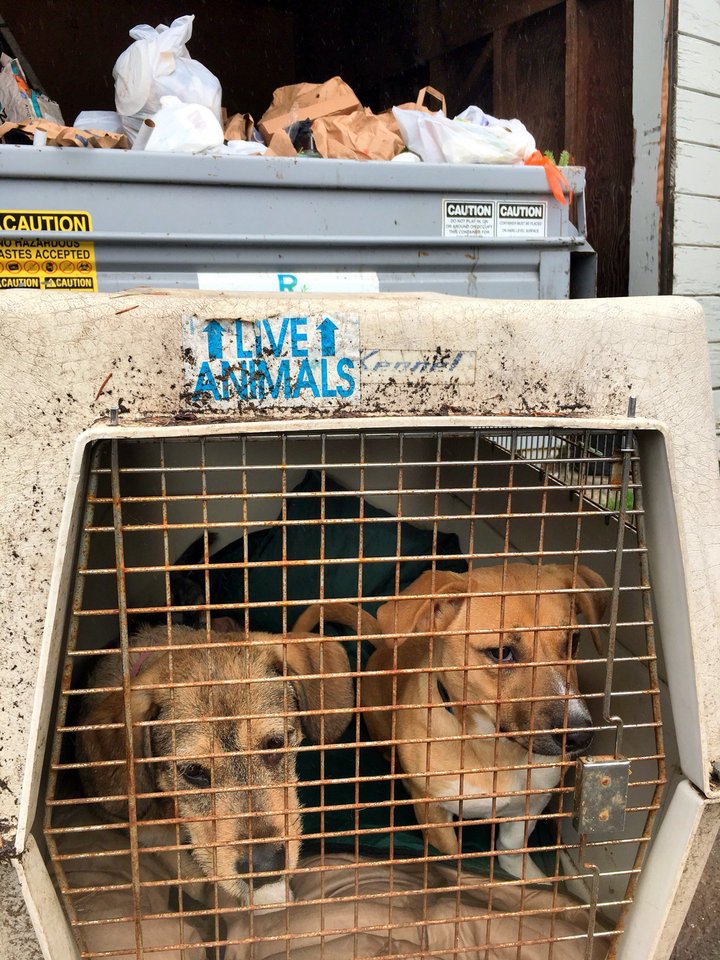 UPADTE, 3:20 p.m.:
The fine folks at the Humboldt County Animal Shelter tell the Outpost that the dogs, which are believed to be about a year old, arrived at the shelter moments ago.
The dogs are reportedly a little dirty but in good condition. If they pass their temperament tests, the they will available for adoption on January 17.
###
The Humboldt County Sheriff's Office rescued two mixed basset hound puppies found abandoned in a crate without food or water behind a Garberville bar this morning.

"Around 11 a.m. this morning our Garberville deputies received a report that these basset hound mix puppies were abandoned in the alley behind the Blue Room in downtown Garberville," the HCSO wrote on Twitter.
The Sheriff's office shared the above picture showing the pups in a cramped carrying crate next to an alleyway dumpster.
The Outpost put in a call to the Humboldt County Animal shelter this afternoon to check on the dogs' conditions and their availability for adoption, but was told the dogs are likely still en route to the shelter. We will update this post when we know more.
This is the second discouraging story of animal abuse to come out of Northern California in less than a week. The Siskiyou County Sheriff's Office reports that three dogs were reportedly found shot to death and dumped in a creek in Montague on Saturday. Siskiyou County Animal Control and the SCSO Major Crimes Unit are investigating the case in hopes of identifying a suspect.