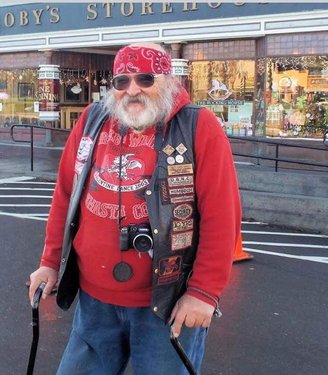 On December 14, 2017, our dear friend Dwight "Dirty Dave" Davis left us forever, heading out on the road for that long ride home, looking to hook up with his old riding partners that have left before him.

Dave was born on March 11, 1946, in Eureka, California to Charles and Mercedes Davis. Dave is a direct descendant of William Carson, who was a founding father of Eureka.
Dave is survived by his sons Mark and Charles.
Growing up in Eureka, Dave attended Alice Birney Elementary School and then went on to Eureka High School.
Dave is a veteran of the Vietnam War. He joined the US Navy in 1964 where he proudly served as a radio operator aboard the USS Ranger and in the Philippines until 1968.
Upon returning to Eureka after his tour in the Navy, Dave went to work at Simpson Lumber Company in Arcata as a dry lumber grader.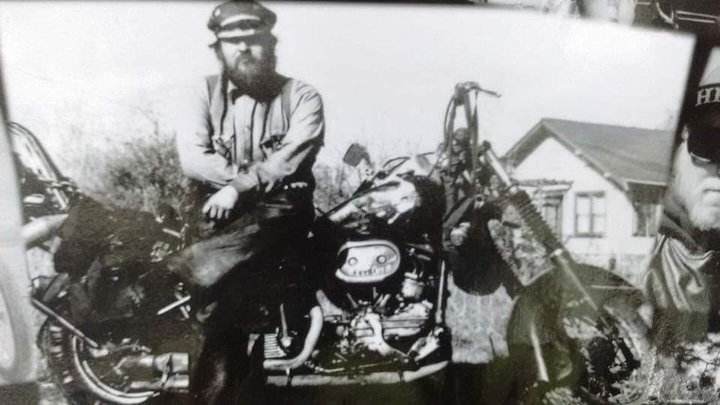 In 1969 Dave bought his first Harley-Davidson motorcycle and his whole life changed forever. In it he found his true love and passion, motorcycles, and the road became his life.
After working a couple of local jobs Dave enrolled in Butte College in January of 1971. While at Butte College Dave studied sociology, music, philosophy, and history.
In September of 1971, Dave returned to Eureka and enrolled at College of the Redwoods where he continued his studies in psychology, philosophy, history, art, welding, and machine shop.
On April 6, 1975, Dave was involved in a motorcycle accident. With a loss of memory, depth perception, and speech impairment, Dave found the courage and strength to go back to school at College of the Redwoods. Back in school, he continued his studies in psychology and philosophy. Dave also took courses in industrial art including welding, electrics, and body and fender repair.
In 1980 Dave started working at Right Arm Motorcycle and Machine. Of all the jobs Dave has had there is no doubt as to which one he loved the most. At Right Arm, Dave put his skills to work; his area of expertise was working on Harley-Davidson transmissions. Many of the relationships that Dave developed while working at Right Arm would become lifelong friendships.
Because of a seizure disorder, resulting from the traumatic brain injury he incurred in the motorcycle accident of 1975, Dave had to give up the thing he loved most. In 1996 Dave had to stop riding motorcycles, but he never stopped loving them or the people who rode them; that love for motorcycles never diminished in the 21 years that was left to him.
Dave's love of motorcycles and motorcycle riders is unmatched by any other. Dave was deeply involved in the Modified Motorcycle Association and is a founding member of United Bikers of Northern California. Motorcycle events that Dave helped organize that will stay in the hearts and minds of area bikers are A.W. Way Campout, Pamplin Grove Run, Klamath River Klassic, 4th of July Bike Parking, Pisces Party, Humboldt County Toy Run, and of course Dave's favorite the Smith River Run.
Dave was one of those people that once someone met him they would always remember him. With a heartfelt hearty laugh that came from deep inside, Dave touched us all and he will be missed by all who knew him.
Dave, we love you and will miss you. You will be in our hearts and minds always. Now you can laugh and smile forever! Happy Trails!
The Celebration of Life for "Dirty Dave" Davis will be held on Saturday, January 20th in Eureka at the Eureka Theatre, 612 F St. A motorcycle procession in Honor of Dirty Dave will leave from E&O Bowl, 1417 Glendale Dr., at noon and make its way to the Eureka Theatre.