Maybe it was the most Off of Off Nights. When we looked around the room, we appeared to be the only ones who had ordered items off the menu, not just the Warrior Bowl that Masaki's Mongolian Grill is known for, so maybe there's some unwritten rule about What To Not Get at Masaki's in Arcata and we just happened to order the three worst things.

I try not to get mean in these reviews. I know how hard it is to make a restaurant succeed, and I try to be forgiving, But the meal we had Monday night at Masaki's was just about the worst meal I have had in Arcata.
The service was almost hilariously bad. When we ordered three entrees and some salad and soup (which he could have told us came for free, with the entrees), our waiter looked daunted and said "Ooh, that might take awhile .. that's a lot of food." We asked for plates, which apparently was a totally confusing request, as again he looked positively mystified, before bringing us two — not three — plates that were sticky with some sort of filth. Our drinks never arrived but were still on the bill. I could go on and on, except to offer an excuse (a good one), as midway through our meal after some particularly egregious mistake our poor waiter explained he was off his game because his friend just shot himself that morning. That explains the service, although that doesn't explain why management had not sent the poor guy home and given the paying customers a server who was capable of doing his job.
This all could have been forgiven if the food was good. I can emphatically say it was not.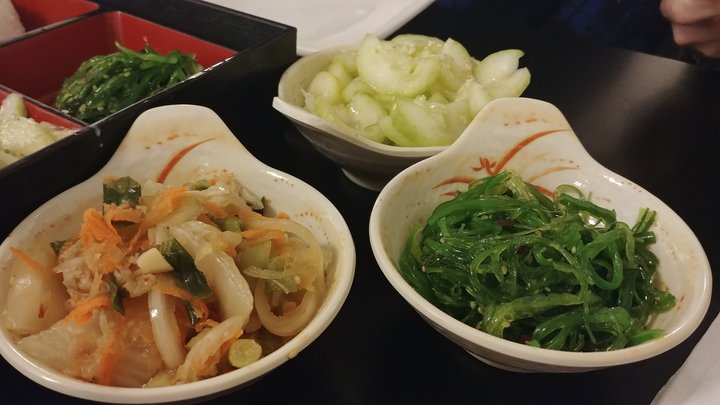 Clearly no one in the kitchen tastes anything before it goes to the table. Our Salad Trio ($6) — consisting of sunomono (cucumber), kimchi and seaweed salad — was inedible. All three diners came to the conclusion that the seaweed salad was off. Seaweed salad has bonito, or fish flakes, and if you leave it out it gets spoiled, and that was clearly the case. Far from the crisp, tangy-sweet treat it is at Tomo and the Sushi Spot, the cucumber salad was exactly like eating a dish of limp bread-and-butter pickles. The kimchee, which we make at home and consume with gusto, was so over-brined it was inedibly salty, and simultaneously not fermented enough.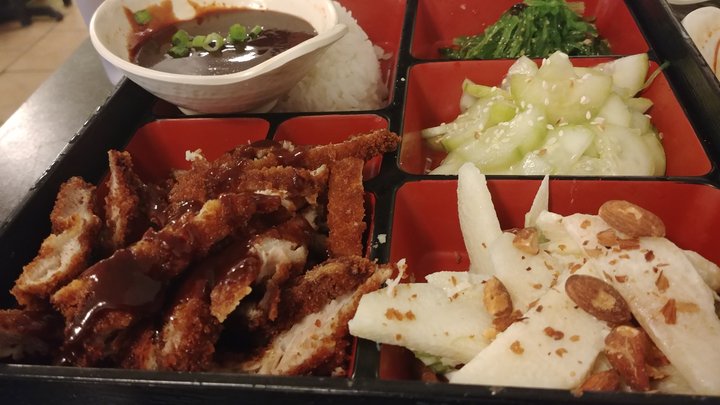 The salads were redundant anyway, because they came with the Obento Box with Chicken Katsu for $14, which was the only order that left me with anything fit to eat. The fried chicken was good, fresh-tasting and only marginally overcooked, and the rice it was served with was perfect. The Fuji Apple Salad was very tasty, crisp and fresh and lightly dressed with a tangy mayonnaise-based dressing with walnuts, and then there were extra servings of seaweed and cucumber salads, both revolting. The miso soup, which again we ordered and paid for (redundantly, as, again, it came again with the meal) was good, once it eventually arrived towards the meal's end, after reminding the waiter. The cabbage and carrot were welcome additions to the familiar broth with tofu and seaweed, for $4. I wish more local miso vendors went beyond seaweed and tofu! I'd go back for the miso.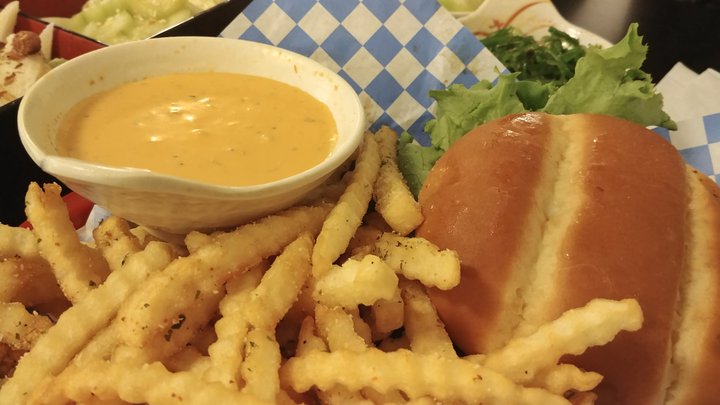 Not so for the Pulled Pork Sandwich with Chuchi Fries, for $11. Oh my heavens, what a waste of pork. "Pulled"? More like macerated to a slurry, with almost no recognizable shreds of meat. It was over-seasoned to the point of revulsion. We had to spit it out.
In Korean fashion, it was laden with hot, sweet and salty elements and would have been passable in a very thin layer on a bahn mi, but it was served in a inch-thick layer on a falling-apart white bun with a lettuce leaf, tomato and a very few cabbage shreds, which was a terrible combination. It needed far, far more vegetables and much sturdier bread. The overcooked meat is too seasoned to be consumed in a such large quantity, with no foil. Either season and cook the pork correctly, or rebuild the sandwich so the pork is mitigated by lots of other flavors — maybe cucumber, mayo, cilantro, parsley, radish…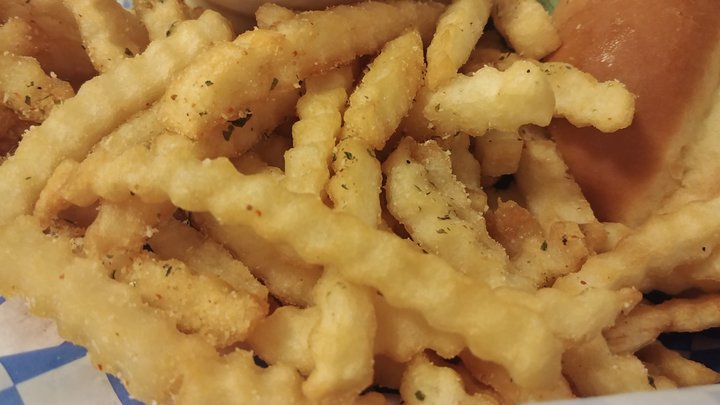 As for the fries? We had almost ordered a separate basket, and we were glad we dodged that bullet. Clearly crinkle cut fries out of a bag, they lacked almost any of the promised "parmesan, nori and shichimi"' that would have made them anything but mediocre. The large dish of Pink Mystery Sauce served alongside was redundant after one bite of that pork. The last thing we wanted was anything else gloppy and too seasoned.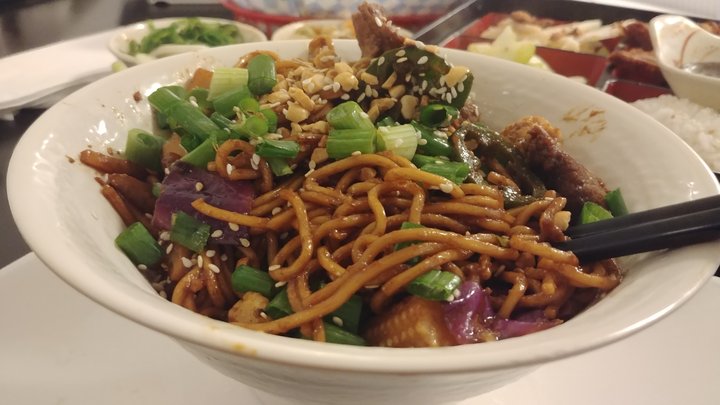 Looking around, we could see no one else had ordered off the menu — clearly this is a spot where the "Warrior Bowl," cooked "just as it would have been in the Mongolian war camps" is the thing to get. The reasonable price, $12 or $14 with refills, makes sense in a college town — a number of lanky twenty-somethings came through and got towering bowls of noodles, meat curls teetering like the Leaning Tower of Pisa, and gobbled away as only stoned 22-year-olds can do. Our experience with the bowls was not so good. With absolutely no directions or signs or any help from the cooks, one of whom was studiously texting and the other of whom was working hard to avoid any eye contact, we were left to just randomly fill up a bowl, stand around awkwardly and finally just put it down, somewhere. As the chef dumped the food on the grill we spotted the waiter, who let us know we were supposed to sauce our own bowl. After some intensely confused conversation the chef figured out how to pick up the sauce and put it on the food. We wouldn't have had him do all that extra hard work if there had been any indication at all of how we were supposed to build our bowl.
Once it was finally made and we picked it up, it was fine — no worse than any stir fry at home. It was nice not having to do any chopping or dishwashing. The chef uses the same set of bamboo utensils for everything, so if you're squeamish about meat it's not the cooking method for you. At least nothing in it tasted noticeably spoiled.
So tell me, readers — did we have a one-off terrible meal? Is it normally better? I am left trying to figure out how such a total disaster of a restaurant could still be in business after several years. Maybe warriors aren't good at cooking.
###
Masaki's Mongolian Grill and Sake Bar. 465 I Street, Arcata. (707) 822-2241.