An Arcata man who has irritated police officers for a number of years will admit to felony assault in exchange for the dismissal of a robbery charge, several misdemeanor criminal cases and 154 infractions.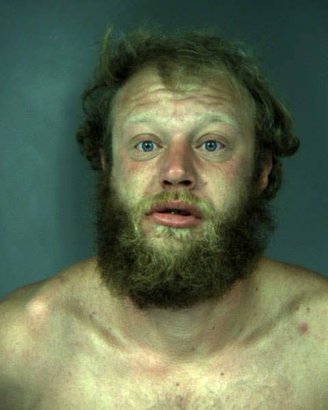 Attorneys, including Arcata City Attorney Nancy Diamond, agreed this morning to the tentative deal for Bhakti Jnana Dillenbeck, who racked up the numerous violations mainly for smoking (cigarettes) on the Plaza, sitting or lying on a public sidewalk and failure to appear in court. As part of the agreement Dillenbeck, 34, must stay at least one block away from the Plaza, except if he has business at the Arcata Post Office or the APD.
Dillenbeck's attorney, Deputy Conflict Counsel Marek Reavis, has said Dillenbeck has "serious mental health issues." That was evidenced in court this morning by what he wore over his head: a white transparent veil called a "spit mask."
He was in a red jumpsuit, indicating he is segregated from the jail's general population.

Dillenbeck paced back and forth during the hearing, asking the judge several times whether he was going to get a plea bargain and if he would be released from jail at the next court hearing.
"I can't promise that," Judge John Feeney told him.
Dillenbeck was arrested in November after a skirmish on the Plaza, during which he reportedly assaulted and robbed homeless man Earl Gordon. Dillenbeck's sister, Heidi Winter, said outside court that according to her brother, he gave the man $4 and some medical marijuana to buy a pack of cigarettes they agreed to divide.
Winter said Dillenbeck guarded the man's shopping cart while he bought the cigarettes, but when he came out of the store he refused to share the smokes. A wrestling match ensued, Winter said, and her brother ended up with the cigarettes. She said her brother insisted he didn't hit the other man and the other man didn't hit him.
Dillenbeck was initially accused of robbery, a charge that will be dismissed when he pleads guilty to assault with force likely to cause great bodily injury. Feeney referred the case to the Probation Department for a pre-sentence report, but said his tentative decision is to sentence Dillenbeck to three years but suspend the sentence.
Winter said her brother, a Humboldt County native, started showing signs of mental illness at age 17 and has been in trouble off and on since then.
She would like to get him out of Humboldt County because "he's driving the police crazy."
"It's something every day," Winter said. "It's like watching a little kid."
Whether Dillenbeck would be allowed to leave Humboldt County while on probation is in question. But if he gets in more trouble, he faces a prison term.
Under the tentative plea bargain, Dillenbeck will also admit to probation violation, two charges of resisting or obstructing an officer and one count of petty theft. Several misdemeanor charges included in his six pending criminal cases will be dismissed.
The prosecution was represented this morning by newly hired Deputy District Attorney Joel Buckingham.
Sentencing is set for Jan. 17.