Anthony Domenico at the scene of the arson fire, denying involvement. Later, talking to a different reporter, he would cop to the crime. Video: Andrew Goff..
A 56-year-old homeless man has been sentenced to nine years in state prison for attacking another man and then burning down his encampment when he ran to call the police.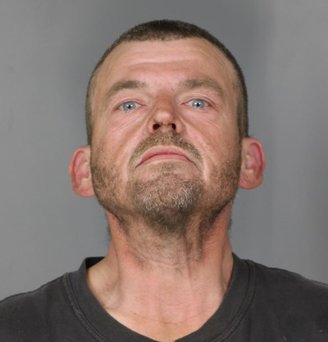 This morning Judge John Feeney imposed the sentence on Anthony Domenico, who was convicted by a jury of assault with a deadly weapon and arson of an inhabited structure. The victim was his fellow homeless person Thomas Uber, who suffered a gash on his head when Domenico knocked him down with a tree branch. Domenico then set fire to Uber's camp near Manila, destroying most of his meager possessions.
Domenico told media who showed up at the fire scene on Aug. 18 that he had nothing to do with the blaze. But he then admitted to a television reporter, on camera, that he had "burned the mother-fucker's place down."
Domenico's crimes make him ineligible for probation unless circumstances are unusual, which Deputy Conflict Counsel Marek Reavis argued this morning that they were. First of all, Reavis told the judge, Domenico is 56 years old. His only other criminal convictions are two misdemeanors in Kentucky, with the last one occurring about 10 years ago.
And Reavis said that despite the jury's decision, there are still "lingering doubts" about Domenico's guilt, and particularly about whether others were involved in the crime. Reavis described Uber's trial testimony as "contradictory."
But Deputy District Attorney Trent Timms, who prosecuted the case, said the facts presented at trial "support both charges beyond a reasonable doubt."
"It wasn't just Mr. Uber's testimony," Timms said. "It was all the other evidence."
"… He was found guilty of a very vicious and callous attack on somebody, and also burning down their home," he said.
Reavis had asked that if Feeney wouldn't agree to probation, he impose a shorter prison term. But the judge chose the maximum of eight years for the arson and added one year for the assault.
Domenico was given credit for about five months in Humboldt County Correctional Facility.
###
PREVIOUSLY